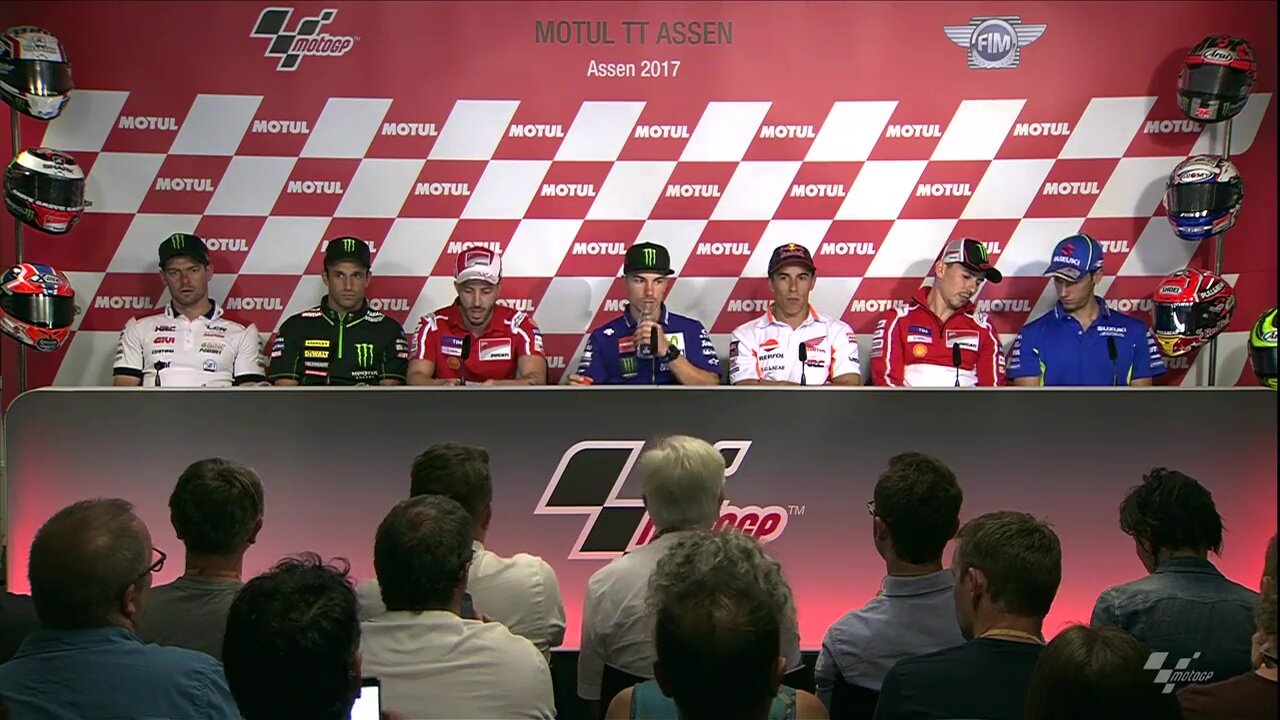 It's time for the Motul TT Assen – this year once again on Sunday – with the pre-event Press Conference getting things rolling on Thursday with Maverick Viñales (Movistar Yamaha MotoGP), Marc Marquez (Repsol Honda Team), Andrea Dovizioso and Jorge Lorenzo (Ducati Team), Alex Rins (Team Suzuki Ecstar), Johann Zarco (Monster Yamaha Tech 3) and Cal Crutchlow (LCR Honda) talking to the media before track action starts.
First to speak was Championship leader Viñales from the middle seat, who is hoping for a turnaround in fortunes after a tough Catalan GP: "Barcelona was a race to forget. I was lucky I could test Monday and Tuesday and feel good on the bike again, but I'm motivated and I know Assen is a good track for me. Last year was good - although not in the race in the wet!"
The weather can be a question mark, but Viñales instead focused on his need to attack now – with the gap at the top coming down: "We arrive here in good shape and still leading the Championship. But one race ago I was 26 points clear and now it's just seven. Now we know if we have chance to win, we have to take it. We can't take points and come second."
After concentrating on a solid points finish in Mugello before having a more difficult race in Barcelona, the Championship leader's hand has been more forced for the Dutch GP after Andrea Dovizioso (Ducati Team) won two in a row – and sees his chances looking up: "Before the weekend in Barcelona we didn't expect it but during the weekend I was fast from the beginning. I had a nice feeling in the race and I'm happy with the work we did - we've worked hard in the last few years to be in this situation. But this Championship is very strange and every weekend is a different story. This is a different track with different grip but we arrive relaxed in a good position in the Championship. We still have some things to improve but if we're able to, we have a real chance to fight with the really big riders."
One of those by default – reigning Champion Marc Marquez (Repsol Honda Team) – is an optimist going into the Dutch GP, feeling that everything is getting better and better – and the track is a good one for his style, similar to Viñales. He did cite the weather – but also won at the track in mixed conditions in 2014: "I'm looking forward to this weekend and trying to be competitive from FP1 - trying to find this stability that has been our weak point, but I think we're getting better and better. Assen is a track I like and good for my style. In the past it was one where we struggled more with Honda but I think with the character of the engine this year we can be closer. We know Yamaha here are strong and Ducati were fast last year. We'll see – the weather is always a question mark too…"
Another rider feeling it's getting better and better is Zarco, who fought back up into fifth in Barcelona as he remains focused on repeating his rostrum success from Le Mans, but credits lessons learnt at the Catalan GP as almost better: "I've enjoyed every moment of it since the laps leading in Qatar. I've learnt a lot and the podium in France wasn't expected but I'm even more happy about the race in Barcelona because I was struggling and in a classic rookie situation. I qualified 14th - but then managed to come fifth. If I try to manage myself well and work well with the team, in practice…stay cool, just try to start near the front then I could get more podiums. It was like a dream in Le Mans but I want to see that opportunity and take it. The key is to start the race well."
Starting the race well was more than true of five-time World Champion Jorge Lorenzo last time out, as the Spaniard led in red for the first five laps after taking his first front row start with Ducati. Dropping back then coming back to fourth, it was another indicator of real progress – and that's what he wants in the Dutch GP: "It was a good result.  In the middle of the race I was a bit worried of staying there but then I could see that my front tyre helped us to recover some positions near the end of the race. My second best position after Jerez and my closest finish to the winner. And it was the first time I was on the front row, led five laps…almost every time we're progressing and that's what I want, long term. It will be interesting on the Ducati here, it works well and I'm encouraged to see if we can have this progression also on this track."
Crutchlow is another who has had success at Assen – including a pole position and podium in 2013 – and the Brit also talked about his recent contract signed with HRC to remain at LCR for another two years: "It's obviously very good news for me and I've worked hard over the last few years. To have another two year agreement is very positive. It's my job to go as fast as I can and give the information I can – and I think my time with other manufacturers has helped too. Here it was a good race that weekend in 2013 and starting from pole…so maybe I could do that again this weekend!"
Another rider with an extra focus leading up to Assen was Alex Rins (Team Suzuki Ecstar), who is back in the fray this weekend after an injury sustained during the Americas GP. Getting some more track time to reacclimatise at the post-Catalan GP test and a private test day on the Tuesday after, Rins says it's been a long wait: "I'm happy to be here. It's been really hard waiting, this fracture was a difficult recovery. I tried the bike on Monday and Tuesday in Montmelo and I was impressed because I felt no pain…although that was a test and we'll see during a Grand Prix weekend. This weekend I'll just be focused, trying to enjoy it and trying to get back some confidence."
Rins will feature in a GP weekend once more from the start of FP1 on Friday when another chapter of a rollercoaster 2017 begins. The showdown on Sunday is then at 13:00 (GMT +2) in a different timetable as the realist and the reigning Champion remain on the chase, and the leader starts feeling the heat.