Viñales redeems Island fall to claim formidable Sepang win. Monster Energy Yamaha MotoGP man was untouchable on Sunday in Malaysia as he beats Marquez and Dovizioso on the rostrum
A week after his loss to Phillip Island, Maverick Viñales took revenge in Sepang, where he returned to victory. When he was 9th, Johann Zarco was stamped by Joan Mir.
Starting from pole position, Fabio Quartararo misses his flight and finds himself stuck in traffic. In front, Jack Miller takes advantage of the power of his Ducati to turn in the lead, but Maverick Viñales gives him the command only a few meters before doubling. Qualified 11th, Marc Marquez sneaks and emerges from the first corners 4th.
Maverick Viñales takes the lead and opens the gap. In his recovery, Marc Marquez takes time to double Jack Miller and Andrea Dovizioso. When he succeeds and passes 2nd, the Spaniard is already within a second of the leader; the hunt begins. In the peloton, Valentino Rossi is fighting for the top-5, while Fabio Quartararo is 8th, in the last place of this group. Johann Zarco is 9th.
Faced with the power of the Ducati, Valentino Rossi takes time to pass Jack Miller for 4th place, but he finally gets there. The Italian then returns to Andrea Dovizioso, who has let go of Marc Marquez. The podium is at stake between the two transalpine. Valentino Rossi is faster, but his lack of a straight-line engine prevents him from taking the lead,
In front, the gap grows between Maverick Viñales and Marc Marquez: 1.5 seconds, 1.7 seconds, 2 seconds, 2.5 seconds … The Yamaha driver has a better pace and is heading towards victory. Jack Miller, collapses in the standings, doubled by Alex Rins, Franco Morbidelli and Fabio Quartararo. Cal Crutchlow falls as he loses contact with the group that includes his teammate Johann Zarco.
[espro-slider id=7818]
With 5 laps to go, Alex Rins completed his comeback and joined the fight for the podium against Andrea Dovizioso and Valentino Rossi. Behind them, the duel for 6th place starts between Franco Morbidelli and Fabio Quartararo. But the French misses the braking of the first corner, at the same time we learn the fall of Johann Zarco, broke by Joan Mir when he was 9th.
Maverick Viñales wins his second win of the season ahead of Marc Marquez, the heroic 2nd after his violent fall in Q2. Andrea Dovizioso completes the podium, having taken advantage of his motor advantage over Valentino Rossi and Alex Rins.
Frenchman Fabio Quartararo finished in a disappointing 7th place, beaten by his teammate Franco Morbidelli 6th. Jack Miller saves 8th place ahead of official driver Danilo Petrucci. KTM places two bikes in the points, but none in the top-10 – Pol Espargaro 11th, Mika Kallio 15th. Thanks to the fall of LCR Honda drivers, Jorge Lorenzo finished 14th.
In the championship, Marc Marquez breaks the record of points scored in one season, which was 383 (Jorge Lorenzo in 2010). Maverick Viñales doubles Alex Rins for 3rd place.
Thanks to a formidable performance at the Shell Malaysia Motorcycle Grand Prix, Maverick Viñales (Monster Energy Yamaha MotoGP) picked up his second win of the 2019 season in emphatic style. The Spaniard raced clear of a recovering second-place Marc Marquez (Repsol Honda Team) as Andrea Dovizioso (Ducati Team) fights off Valentino Rossi (Monster Energy Yamaha MotoGP) for P3.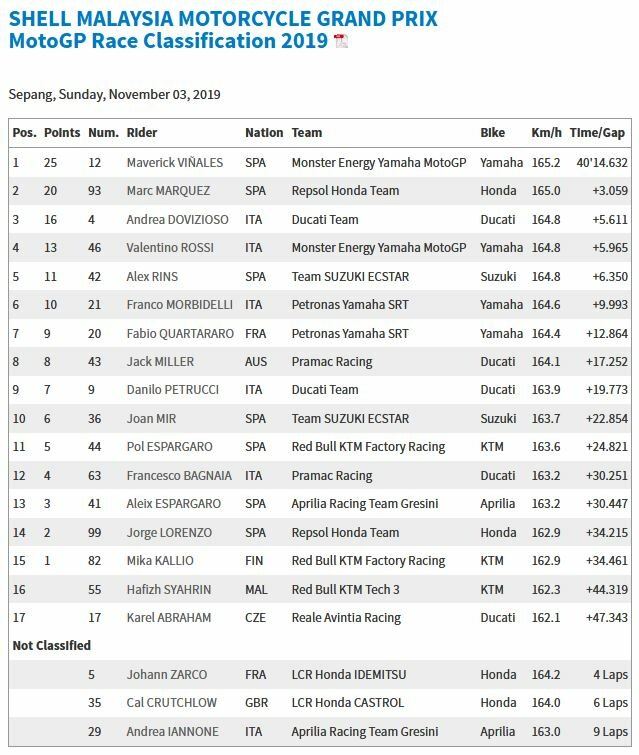 Fabio Quartararo took a disappointing 7th place in Sepang, where he achieved pole position. Everything was played in the first meters.
Fabio Quartararo, who had a solid weekend, was hoping for a podium finish for the national race of his team, Petronas Yamaha SRT. He found himself stuck in the peloton at the start, and never managed to take back the positions that were ceded.
After having occupied 8th place for a long time, the French finally got rid of Jack Miller. He tried to beat his team-mate Franco Morbidelli, but made a mistake in overtaking him. He finally finished 7th.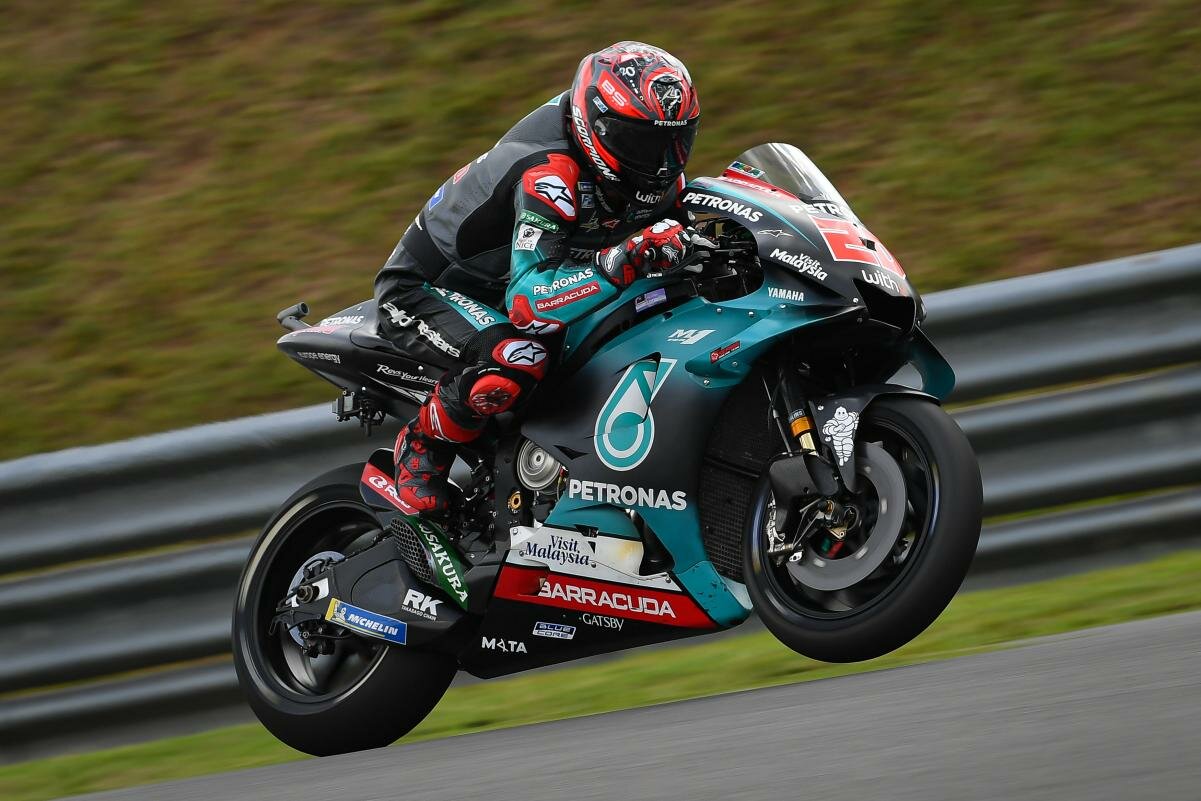 "It was a very difficult race," he told Canal +. I had a very bad start and the first lap was not easy. Moving from first to fifth, then seventh … We lost a lot of places, and in MotoGP when we are far from the start, it's very hard to go up.
We made a different choice from the other drivers, with the soft in the back, but I think it was a very good option. The first laps were not easy, I could not stop, there was a lot of movement with the front. This is how we will look at what happened and understand it to be ready for Valencia. "
Valentino Rossi: At the first turn, Ducati and Marquez doubled me and I lost positions.
I went very quickly in the first laps and I recovered immediately. I also made the record of the race in the third lap, it is a great satisfaction! With Dovizioso, I fought well, I was faster in the mix and he was faster in the forehand. It's a shame not to be on the podium. I'm happy, I managed to do well the bike all weekend and to stop the bike. Even with the tires, it went better this time. Too bad for the podium. If, in the first corner, Petrucci had not allowed me to go into the limit by dismissing both, I could have been more attached to Marquez and play with him, our pace was very similar. In 2019, a new course started at Yamaha. Over the past two years we have struggled a lot, but there are now a lot of new people working well. "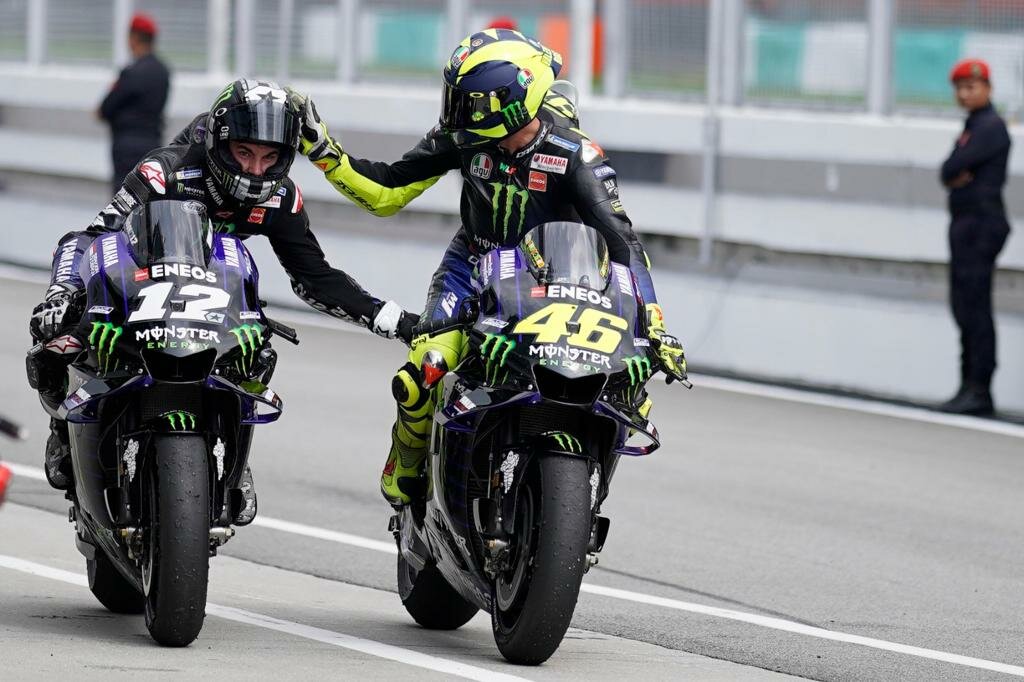 Marquez racks up premier class points record in Sepang. 2019 Champion surpasses Lorenzo's former record thanks to a P2 finish in Malaysia
Despite starting from his lowest grid position since Mugello 2015 – due to a huge Turn 2 highside in qualifying – 2019 World Champion Marc Marquez (Repsol Honda Team) notched up another MotoGP™ record as he surpassed Jorge Lorenzo's premier class points record of 383, thanks to a P2 finish at the Shell Malaysia Motorcycle Grand Prix.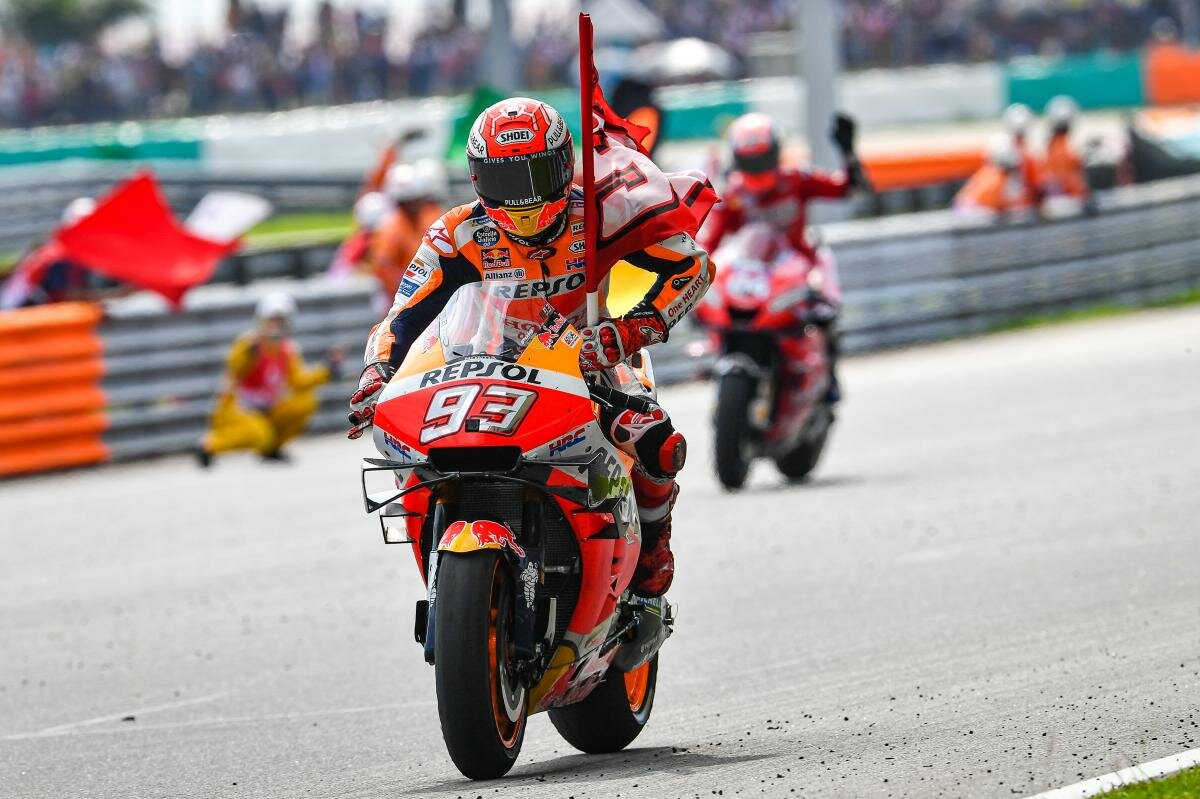 It was yet another stunning performance from the eight-time Champion, who now moves onto 395 points in 2019. Every time Marquez has finished a race this season, it's been in the top two. 18 races completed, 17 podiums, 11 of them wins and just one DNF. 2019 has been pretty much the complete season for the number 93 as he now sits 139 points ahead of nearest rival Andrea Dovizioso (Ducati Team) in the overall standings.
Will Marquez finish the season with a bang on home soil and reach 420 points? You'd be a brave person to bet against him in Valencia and if you think there's nothing to play for – you're wrong. Just two points separate Repsol Honda Team from Ducati Team in the overall standings, the Japanese manufacturer with a slight deficit as Marquez gears up for one last 2019 assault.
Andrea Dovizioso was 10th on the grid and in dry conditions he did not seem to be a favorite, but the Ducati rider finished a good race and took another podium.
Sepang: The Ducati rider reached the podium of his 101st World Championship and 60th of the Queen class with his 10th place in Malaysia, where he finished third after a good performance. "I think this third place is our best race here in the dry, I knew that if I did well, I could get on the podium," said Dovi at the end of the race.
"The performance of the tires changed a lot between the practice and the race and we had to manage them," he explains after choosing the soft tire at the front and rear. The race was dry and very hot, which, a priori, did not benefit the Ducati.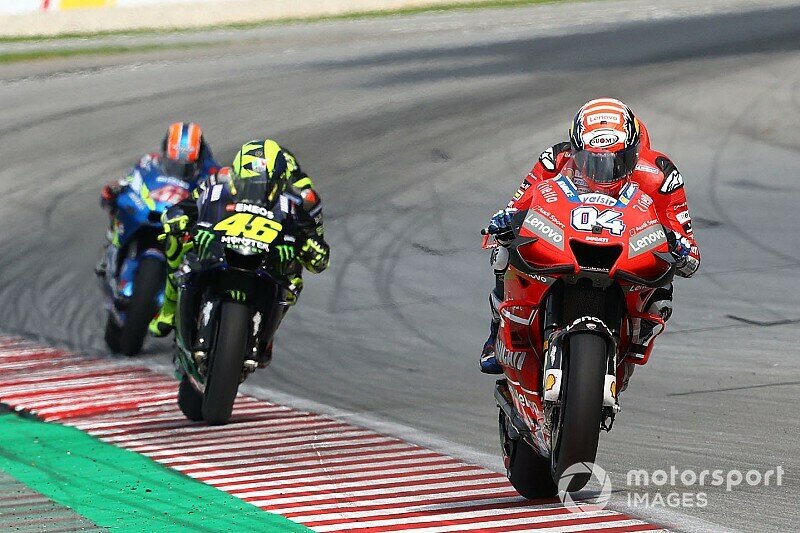 "In Malaysia, the bike depends a lot on conditions, there was little grip, we were able to ride in the right direction, I wanted to be with Marc, there was not much difference, but in the end I had to control Rossi and Rins who had a good pace, "he explains. During the race, while the driver Forlì was third and the driver Suzuki fifth, the Italian was informed of the time of the Spaniard on the screen of his motorcycle. "I was told that Rins was coming from behind to get information, it's always good to know what's going on behind him," he says, although number 42 did not have the opportunity to catch up with him at the end. The key for Desmodovi was the brilliant start on the grill.
"Normally, I'm going pretty well, with a long straight, I can go very far, I think I braked in the first corner, because braking is the key and if you make a mistake, you lose everything And we were able to be in the lead from the start, "he said. Despite his third place, Dovizioso thinks he could have been in the fight for second place. "In the end, I missed pace in the race so I could fight for second place against Márquez," Forli concluded.
Mopped by Joan Mir while he was in the top-10, Johann Zarco retains "a lot of positive elements," as he explained on Canal +. He believes he has "passed a course" this weekend.
The second Grand Prix of Johann Zarco on the Honda RC213V could have given rise to a very good result: the Frenchman was 9th, in the fight with Jack Miller for the 8th place after getting rid of the official Ducati of Danilo Petrucci. All was well, especially since he was ahead of end teammate Cal Crutchlow, eventually fell.
Unfortunately, he was hooked by Joan Mir 4 laps from the finish. The end of a positive weekend in Sepang, where we saw him enter Q2, qualify 9th and regain competitiveness.
The race: "I passed a course and I begin to return to the rhythm of good drivers. I feel that I still can not do everything well with this bike. With a little more ease, I could have struggled with Fabio and not with Jack. Jack likes to fight so we made beautiful overtaking, unfortunately when I was doubling Mir has arrived a little in distress … It happens.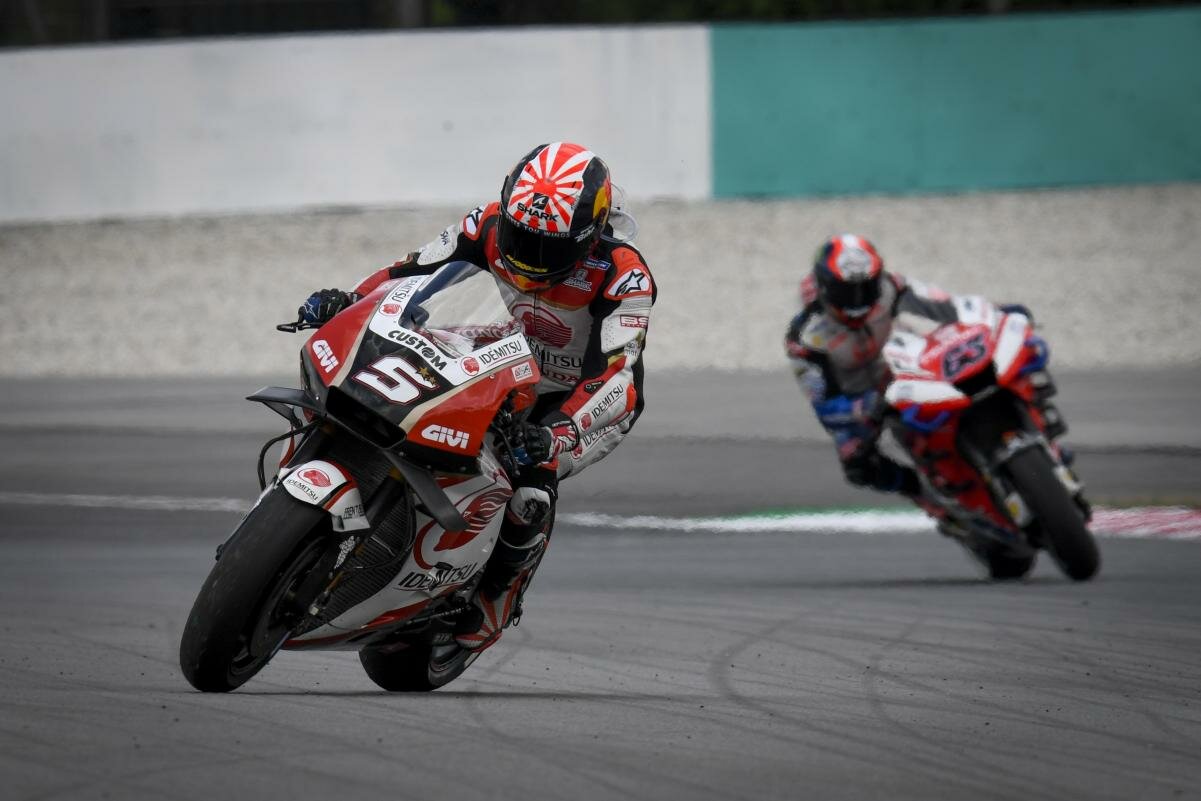 The important thing is that I had a good race. I think I had Jack in my hand, so it would have made a nice final position. I am still a bit limited, I must take my marks, the team gets used to all my feelings and that I develop them. "
The following: "Give all the energy possible. There I was able to realize, and I'm happy to have made some big decisions this year. I was losing the rhythm of the good pilots, there I find it. It is not easy to resume because it requires every time to get out guts, to hurt, but that's the high-level. It was also that with Yamaha. Once I have taken this pace, I may have a little more control. If you want to fight in front, you must always give yourself the max. "
Jack Miller

is feeling annoyed at Sepang International Circuit.
It was quite a strange race for me today especially when I knew we had a podium pace. The opening laps were good, I spent some time upfront and was looking to build my pace slowly into the race but lap 3 or 4 I really started to struggle with the soft front tire, mainly on the right side and lap by lap it just got worse and worse!  Between this and many guys running into the side of me for no particular reason I felt like it just wasn't our day, all in all, we managed to bring home some strong points in 8th and we're healthy coming into the final round at Valenciana in a couple of weeks time! Thanks again for all the support and the entire Pramac Racing team!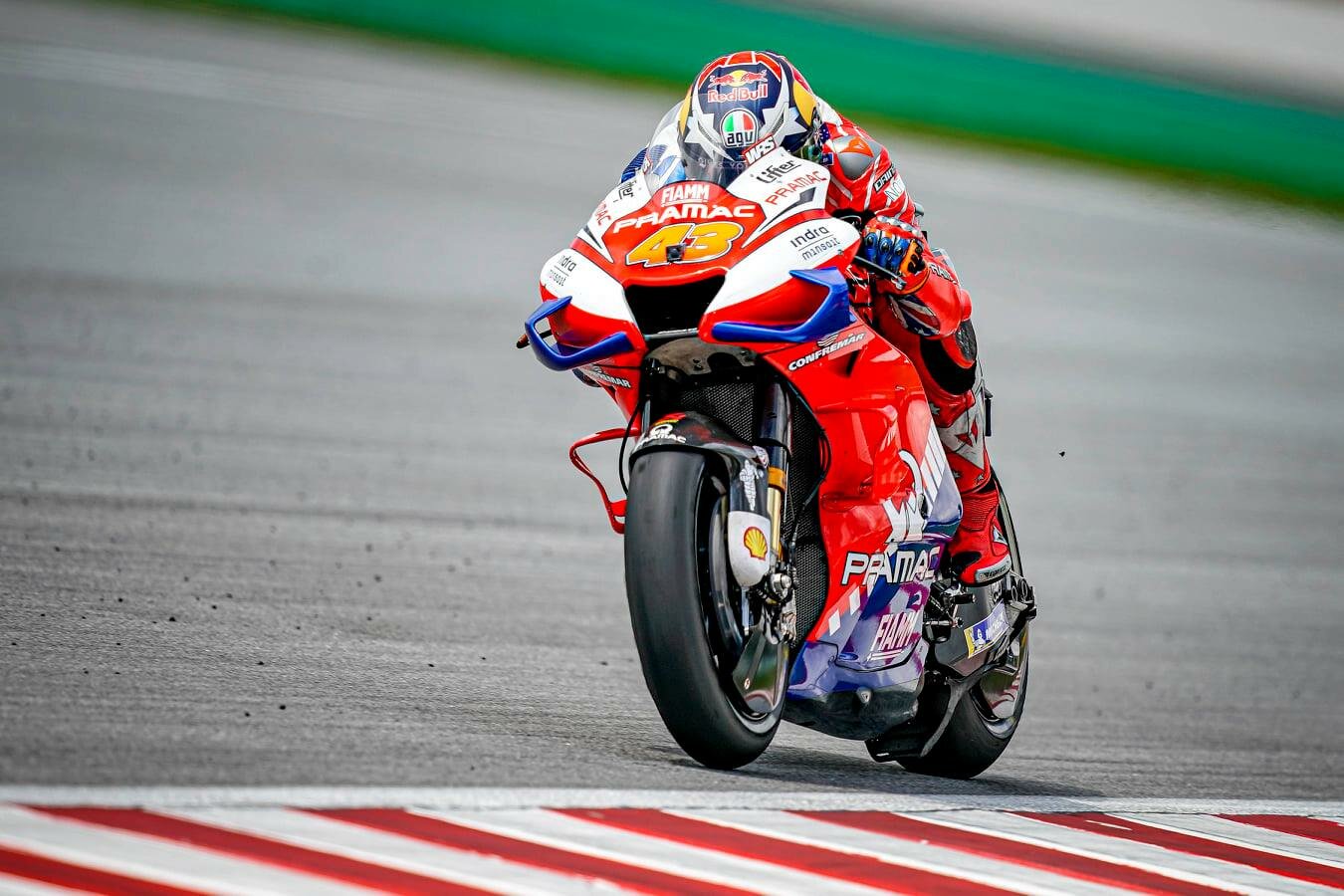 Jorge Lorenzo narrowed the gap with the winner and scored points that could be decisive for Repsol Honda to win the team title.
Sepang: Jorge Lorenzo returns to the points for the first time since the San Marino Grand Prix. He finished 14th, although this time he was just over half a minute behind the winner, Maverick Viñales. After the Australian debacle, the Spaniard takes a step forward.
"What's positive is that I've been consistent, all my laps made seven-tenths of a difference," said Lorenzo. "The hammer is still there, now it misses the butter, I was one of the most constant but also one of the slowest.To go from so far in MotoGP is very difficult because of the turbulence created by the motorcycles that In front of you, you have to wait for the group to separate, so I suffered a lot with a full tank.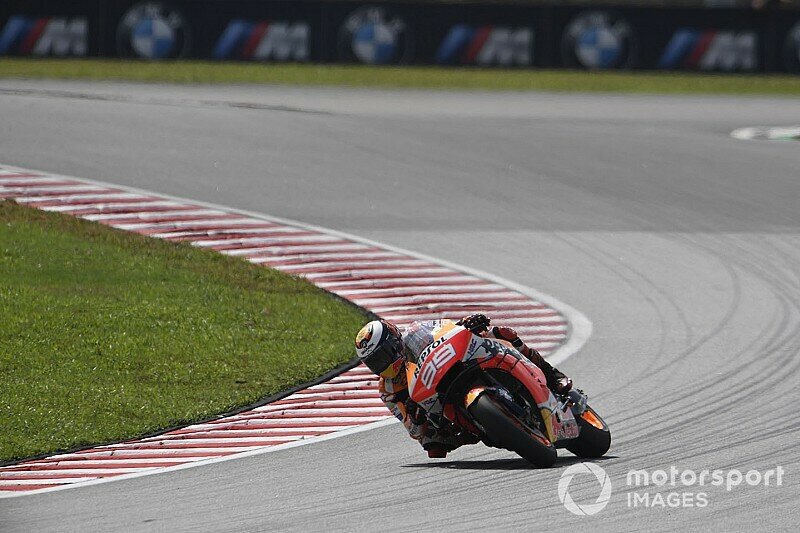 The Honda pilot was clearly overtaken by Johann Zarco until the fall of the Frenchman. "Johann is very strong, he has not been injured and the 2018 bike is less physical, more friendly than this year, he did very well and I did better because I got closer to the difference. 30 seconds with the winner, "he says. Although 14th place is still far from what one would expect from a five-time world champion, the points scored today could be used to win the team title at Repsol Honda. "I added two points that can be very important to fight for the team title, which we will try to get in Valencia, a circuit that is not favorable to Ducati," he recalls. There, after the race, he will start the test in which he will test the 2020 bike. "As I have always done in my life, I'm thinking of the present and I will do it in Valencia, when I finish the race, I'll think about the test,"