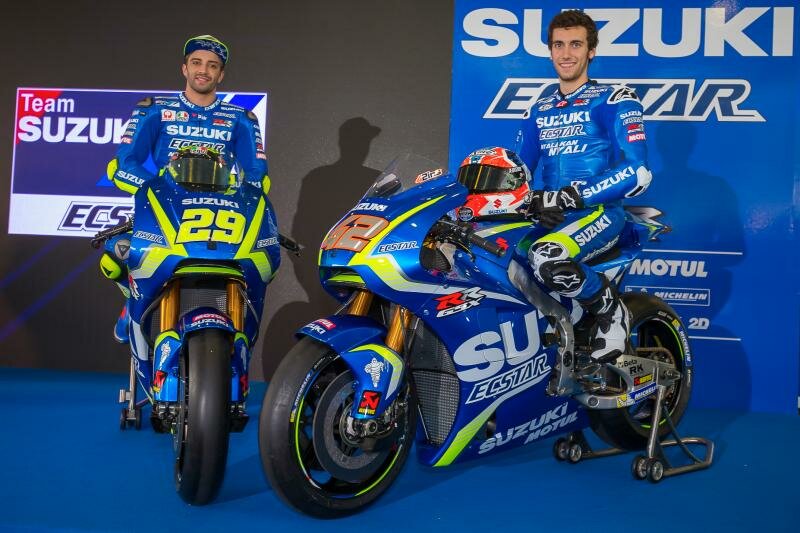 Team Suzuki Ecstar launch 2017 in Sepang. Iannone and Rins introduce new season challengers in Malaysia. After coming back to MotoGP™ in 2015, Suzuki's rise back to the top echelons of MotoGP™ has been meteoric, culminating in podiums and a race win at Silverstone in 2016. The Japanese factory has come back with a bang and want more. For 2017, the Hamamatsu team welcomes a new line up in the premier class of Andrea Iannone, 2016 Austrian GP winner, and Alex Rins, former Moto2™ title contender.
The new-look Team Suzuki Ecstar was introduced in Sepang ahead of the start of the first Official Test, with Team Manager Davide Brivio the first to speak ahead of their 2017 debut. Then it was time to introduce the new riders, Iannone and Rins, and they spoke about their new challenge as they both arrive in the team for the first time – with Rins also discussing his recovery from a crash in Valencia in which he injured his back.
After Satoru Terada, Team Director, and Ken Kawauchi, Technical Manager, discussed the project, the two riders then unveiled the bikes to the gathered crowd - with the new 29 and 42 numbers displayed front and center ahead of their track debut on Monday.
Alex Rins: "I feel ok, I'm not in pain so I'm ready to start this new project. I'm excited to get on the bike. It's not easy to switch. In Valencia I felt a lot of power in my hands, and it's not easy to go fast. We need to work hard. The most important thing is that I'm excited to start. When I entered the box, I felt it's like a family. And after the crash, too, everyone was asking me how I was and they all came to the hospital. I'm happy to be here. I felt that it's heavier than a Moto2 bike and when I entered the corners it felt like I was going down, but the feeling was incredible. Unique. This year I want to learn, to be fast quickly, and try to get experienced very fast."
Andrea Iannone: "In winter I've been relaxing and training. It's important to relax, but also to train. My first impression in Valencia with this bike was very good. We worked very well and the bike is very special. The chassis works very well - I think it's more similar to my style and I'm happy about these two years. From the beginning I had a very good impression. It's like a family team and that's very good. The guys in the garage always have a smile and that's important for the rider. It's very difficult in MotoGP to win, there's a lot of manufacturers and riders. But we'll try the best together and I hope in the future we can - why not?"
Davide Brivio, Team Manager: "We're very happy with our new rider line up and I think we have an exciting season ahead. Andrea Iannone comes to us as a mature rider, he's a top rider in MotoGP and he's already won a race. He can be at the top and we have to be able to give him a good package – we know we have to give him a good package. And Alex Rins we think is a rider with great talent, and we have to help him grow up and use his talent. So Iannone has to bring us to the top, and Rins has to catch him as soon as possible. We have a lot of pressure because Suzuki has great history. It's good motivation for all of us, to try and continue this tradition and take Suzuki back to the top."