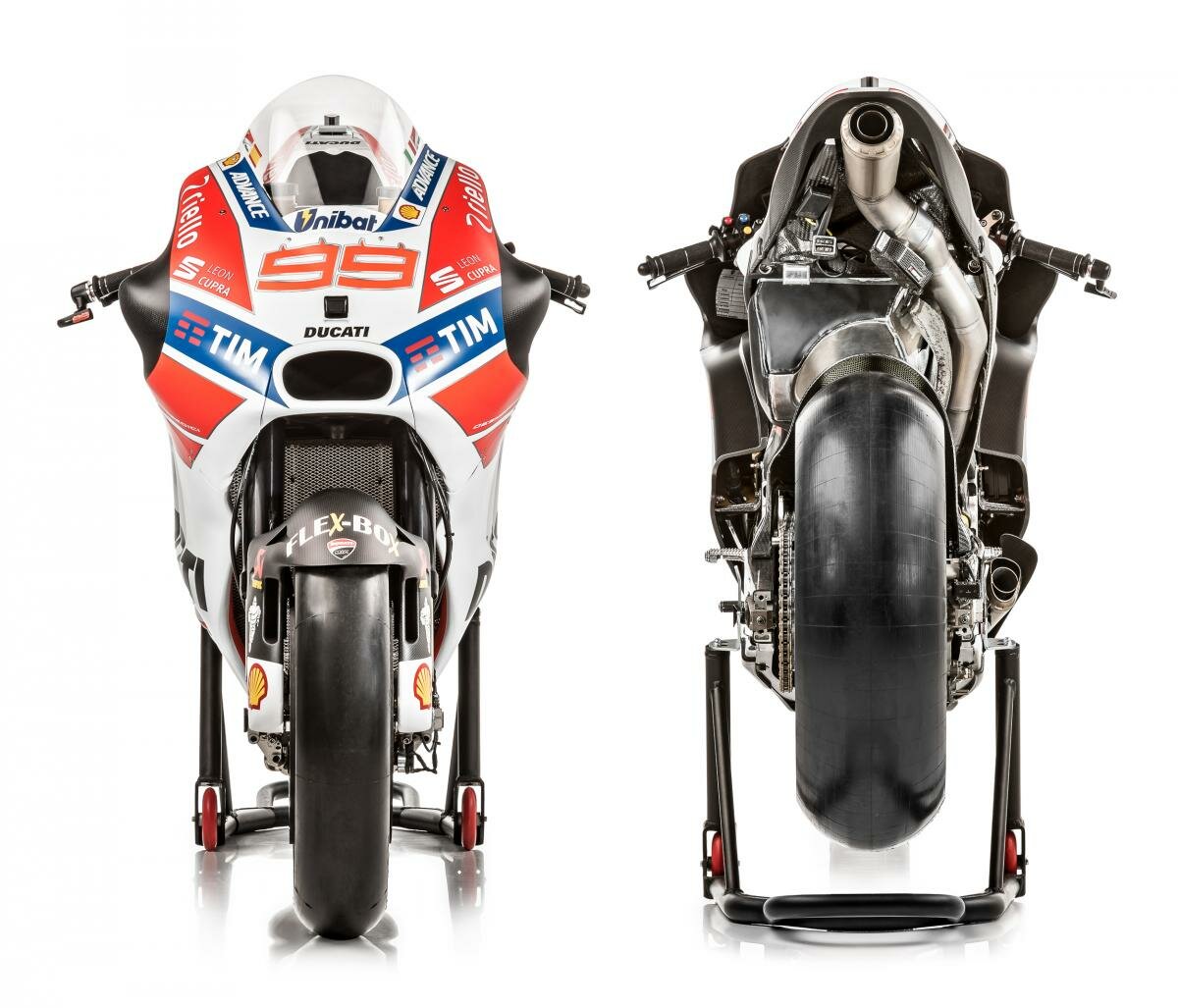 One of the most hotly anticipated team presentations ahead of the 2017 MotoGP™ season saw the Ducati Team launch their new Desmosedici in Italy, with new arrival Jorge Lorenzo appearing in red for the first time before the season gets into gear, alongside teammate and longtime Ducati collaborator Andrea Dovizioso.
Introduced by Ducati Motor Holding CEO Claudio Domenicali, MotoGP Team Manager Davide Tardozzi, Sporting Director Paolo Ciabatti and General Manager of Ducati Corse Luigi Dall'Igna then took over proceedings - before the two bikes and riders then appeared from the smoke to give the world the first real glimpse of the new Borgo Panigale factory MotoGP™ effort.
Andrea Dovizioso, who enters his fifth year with the team and his tenth in MotoGP™, was first of the two riders to speak.
Andrea Dovizioso: "Last year the final part of the season ended very well. Lots of energy and passion and we got the win in Sepang. That's very encouraging and it helps us start the season in the right way. It's my tenth year in MotoGP and fifth with Ducati, so it is a special year. We had some difficulties in the earlier years but that's what we needed to get back here. The new bike? We tested first in Valencia and there will be more updates in Sepang, and we'll see how competitive we are. I'm so happy to share the team with Jorge, and to work together with him."
Lorenzo, appearing in red for the first time at the event, then took to the mic – explaining his feelings after his first taste of the Ducati at the Valencia post-race test, and giving his thanks for the support given so far.
Jorge Lorenzo: "I have to say that I'm more nervous now than in races! It's a very special day for me. Yesterday was a great day because I really didn't expect all the love the people here have shown me; the fans, Ducatisti and the employees. Some people have said 'welcome to the family' – I think that's something you can only feel in this team.
"I have been with the same bike and team for many years so Valencia was a big shock but it was a big, positive change. The rideability is incredible, and it's so powerful. It's so easy to keep control. On the straights and in the corners. An incredible surprise.
"When you've been lucky enough to be World Champion, the only thing you want is to repeat that. If we are strong in general, I think we'll be able to get onto the podium. I'm so proud I now belong to this family. I want to thank all of you, not just for what you've shown me yesterday…also everything you're writing on social media, for example. It gives me so much energy to try and make this team stronger. As a racer and rider I'm sure there will be incredible emotion still to come."
Dall'Igna, a driving force behind the change in Ducati fortunes that saw the squad take two wins in 2016, elucidated the goal of the project: the World Championship.
Luigi Dall'Igna: "Our organization is better; we've improved it a lot and we've managed to have the new bike up and running straight after Valencia. We just wanted to make sure the new bike had no problem or issue it would have been impossible to solve during the season. Now, we get underway with our test riders Michele Pirro and Casey Stoner, alongside our official 'heroes' – Jorge Lorenzo and Andrea Dovizioso. We have to improve our bike from every perspective and in every detail.
"This season will be Andrea Dovizioso's fifth season with us. Like he says, after getting the victory, now he wants to 'finish the job'. We've been through some difficult times together but he's a great rider and I'm sure we can do it.
"Lorenzo is a five-time World Champion, and the only thing we have left to do is win the World Championship. We don't need excuses - that's why we hired Lorenzo. There is no reason why we can't do this. We've changed our mindset and we're focused on doing what people want us to: winning the Championship."
The two riders will take to the track for the first Official MotoGP™ test of the year at Sepang International Circuit on January 30th – scene of Dovizioso's 2016 victory - with Lorenzo riding in red for the first time as engines fire up for a new chapter.
(from MotoGP website)