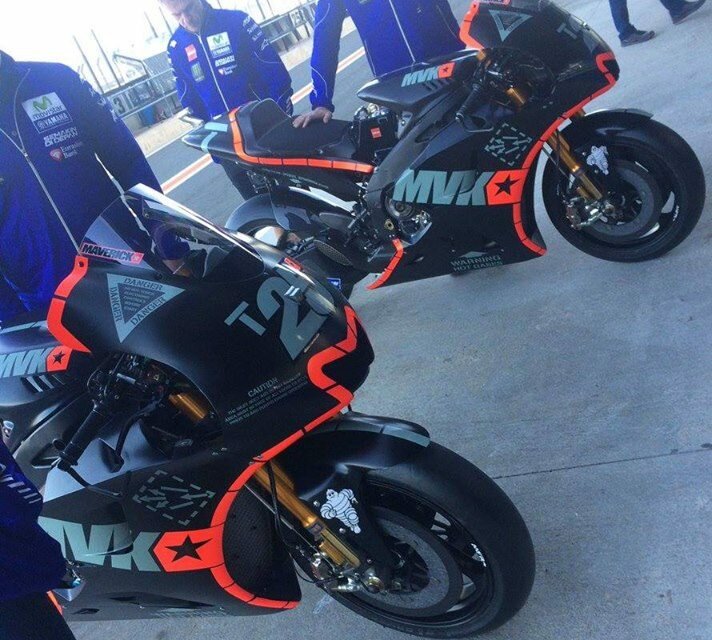 For the two days of tests for the winter 2016/2017 at Valencia; Maverick Viñales dominate; being the only rider under 1:30 a lap.
They said to MotoGP:
Top Gun: Viñales shoots ahead as Lorenzo gets off to a flier. New kids on the block steal the headlines on Day 1 of 2017 testing in Valencia
Maverick Viñales (Movistar Yamaha MotoGP) has topped the first test day for the 2017 MotoGP™ season, up to speed quickly before then stealing the top spot from new yet veteran teammate Valentino Rossi as the day wore on - an incredible statement of intent in his new home. With a 1:30.930, Viñales beat his 9-time World Champion teammate by only 0.020 on the first day, after Rossi led the timesheets for some time. The man he replaced, Jorge Lorenzo, was third quickest in his first outing with the Ducati Team – only a tenth off the top.
As the lights went out to signify the start of the first of 2017 testing, somewhere in the midst of a huddle of photographers there was a black-liveried 2016 Ducati preparing to meet its new rider: Lorenzo. Quick to exit the pits once action was underway, the 99 had a new 99 on the bike - with double devil horns.
After a few laps well off the pace, Lorenzo was soon up to speed; smiling and making adjustments in the pits in good company: test rider Casey Stoner. One of the biggest stories of the day had a happy first chapter, as the number 99 settled into the top ten around six tenths down – and then went for a final blast around the lengthening shadows of the circuit on the 2016 bike to go red in the first two sectors and cross the line in P3 – only 0.122s down.
The 'Spartan' then did a short run on the 2017 bike he is expected to run tomorrow.
New teammate Andrea Dovizioso was running the 2016 bike in full red and the 2017 in a full black testing livery, ending the day in fifth with a 1:31.31. 'DesmoDovi' was also one of the riders testing new front forks from Öhlins, alongside Valentino Rossi and Marc Marquez (Repsol Honda Team).
Marquez spent his first day in defence of his 2016 World Championship in P4 on the timesheets after proving an early leader in the morning. A best of 1:31.102 after 53 laps saw the reigning World Champion slot into the timesheets just 0.050s behind Ducati's new kid on the block Lorenzo. Marquez' teammate Dani Pedrosa also led the timesheets for a window in the middle part of the day, doing 42 laps despite his ongoing recovery from a broken collarbone and registering a best of 1:31.306 – 0.376 off Viñales' best as the 'Baby Samurai' closed out the top ten.
There were a number of victims of Turn 10 on Day 1, including Movistar Yamaha's Valentino Rossi falling in the morning, as well as Red Bull KTM Factory racing's Pol Espargaro and Team Suzuki Ecstar's Andrea Iannone – with the latter walking more slowly away from the scene as he tested his back following a cracked vertebra sustained in FP1 at Misano in September; riders ok.
Iannone impressed on his first day at Suzuki, fourth for much of the day before the crash and eventually ending up P7 on the timesheets, just behind fellow crasher Cal Crutchlow (LCR Honda).
Crutchlow, as well as riding his LCR Honda, got a taste of a full Repsol Honda machine with LCR livery – ending the session with a best of 1:31.156 after 69 laps over the day. He also suffered a crash at Turn 14 - the same place he crashed out of the 2016 season finale; rider ok.
Compatriot Scott Redding (Octo Pramac Yakhnich) finished the day in P8 and three tenths off the pace, completing 71 laps, with teammate for the test, Michele Pirro, in P13 as he sits in for Danilo Petrucci - who has returned to Italy for family reasons and is missing the test.
Hector Barbera and Loris Baz began Avintia Racing's 2017 with a solid performance, with Barbera in P9 and 0.020 ahead of Pedrosa - three tenths down on P1. The Spaniard was on the 2016 Ducati – the bike he raced in red when replacing Andrea Iannone for two races this season - with Baz a further second back in P15 as he looks to get back to full fitness after a tough season.
Aprilia Racing Team Gresini saw their new arrivals start to settle in. Aleix Espargaro ended the first day in fourteenth and 1.2s back from P1, after also proving a key member of the top ten for much of the first few hours of the session. Sam Lowes, who does have some previous experience of the Aprilia machine following in-season tests, began his MotoGP™ career in earnest with a slightly more difficult day. He registered a 1:33.359 as his best lap over 63, then crashed out in the last minutes of the day - but walked away unscathed.
Jack Miller (Estrella Galicia 0,0 Marc VDS) was P11 in an impressive return to the track and only half a second back from the front, with teammate Tito Rabat putting in the most laps – 72 – and finishing up P18 on 1:32.578, a few tenths off his best from Q2 during the Valencia GP. Alvaro Bautista had a happy return to Aspar with the Pull&Bear sponsored team, closing out day one in P12 and seven tenths off P1 – the last man on the timesheets within a second of Viñales.
Monster Yamaha Tech 3's new line-up, Moto2™ graduates Jonas Folger and Johann Zarco, had a good first day on track as they gradually improved laptimes, down to around a second and a half off the fastest of the day by the end of their first taste of MotoGP™ – and both incredibly split by only 0.015 in P16 and P17.
With Iannone ending the day on a 1:31.165 in P6 on his first impressive showing for Suzuki, new teammate Alex Rins also had a good first day as the rookie chipped away at the laptime in his first experience of MotoGP™. Completing 71 laps on his first day in the premier class, the white-liveried number 42 Suzuki got down into the 1:32s by 16:00, ending the day with a 1:32.811.
Red Bull KTM Factory Racing duo Pol Espargaro and Bradley Smith debuted in their new colours in P19 and P20 respectively, with Espargaro one of the fallers at Turn 10 but ending the day two tenths quicker than his recovering teammate as the pair get to grips with the switch to KTM.
Bagnaia gets his MotoGP™ test ride! Assen and Sepang Moto3™ victor tests the Pull&Bear Aspar Ducati after winning a bet with the team
Francesco 'Pecco' Bagnaia signed off from the Pull&Bear Aspar Team today with a dream after a sporting bet made at the start of the season. The team promised the Italian a ride on the MotoGP™ Ducati if he managed two Moto3™ wins in 2016 and today he was rewarded at the Circuit de la Comunitat Valenciana Ricardo Tormo.
Bagnaia, who finished fourth in the Moto3™ World Championship after victory in Assen and at Sepang, took to the track at 10.30am for a run of nine laps. The Italian was impressed by the acceleration and braking power of the Ducati, improving from a 1'40.969 on his first lap to an eventual best of 1'36.940.
Francesco Bagnaia: "It was incredible – I have to say thanks to the Aspar Team and Ducati. I did nine laps with a best time of 1'36.940. If it was down to me I would still be out there turning laps, even though after just nine laps I am drained because it is very physically demanding."
Could you sleep last night?
FB21: "I had a look at the bike last night and I was looking forward to getting out on track. I woke up this morning at 5am and started thinking about the test. Luckily I had already spoken to Valentino Rossi before I came to Valencia to know how to ride the first few laps. That was useful, especially with regard to the braking."
What are the main differences to the Moto3 bike?
FB21: "The thing that impressed me most about the MotoGP bike is the acceleration and the braking. It is scary because it feels like the whole world is stopping around you. Compared with the Moto3 bike you have to be really careful getting this one stopped because you don't need as much brake pressure. Also, when you open the gas it is impressive. In Moto3 you have time to do everything but here you open the gas and it's time to brake. It is incredible how it brakes, how it turns and the feeling from the front end…"
You went really fast from the start…
FB21: "Yes, my top speed was 315 km/h. I've never been that fast before, not even on a train! I knew it was fast, but not that fast."
Rossi: "We still have a few kilometers to do..." P2 on Day 1 - as new teammate Viñales tops the timesheets
Valentino Rossi (Movistar Yamaha MotoGP) had a good first day of testing for 2017 in Valencia, despite a crash from which the Italian escaped unhurt. Topping the timesheets before lunch before being just knocked off the top by new teammate Maverick Viñales, the 'Doctor' ended the day 0.020 off P1 and completed 47 laps.
Valentino Rossi (P2): "It was a positive day, because I'm second and the lap time was not so bad, but I did it with the old bike. With the new chassis the first feeling was OK, but after unfortunately I crashed because I put the hard tyre on the front, which on the right side doesn't give enough grip for our bike. I damaged the bike and I didn't have enough time to try it again, so now the guys are working and I will try the new chassis some other time tomorrow and we will see."
Bradley Smith's blog: "full of optimism" A chapter ends and one begins for the Brit as he swaps Tech 3 for KTM
That dream of a factory ride finally happened on Tuesday after the grand prix in Valencia and I ended that first day with KTM with my head spinning and full of optimism.
There was so much to take in, but I've been positively pleased despite how many things feel so different. The engine is different, the chassis is tubular steel, and we're running different suspension – but it feels like a bike, and it has a similar character on the Michelins and reacts in the same way and logically.
We worked mainly on electronics the first day, because my riding style is quite different to test rider Mika Kallio. We roll through corners more instead of stopping and starting like in Moto2, and Mika doesn't mind the bike backing in as much and sliding because that's what he knows.
The good thing is that Pol and I went in a similar direction and positive feedback form it. We didn't try too much with the chassis; it was a case of trying as much with the electronics and trying to understand the character of the engine. The sound confused me the most – you don't really know where you are or what the traction control is doing – but it improved with every run.
Just over one and a half seconds off the front considering this bike still hasn't done half the kilometres of anything else out there is impressive. Pol and I are working on the same things, complaining about the same things, and doing the same lap times, which is really positive.
Absolutely the worst way to start my last weekend with the Monster Tech 3 Yamaha team because with the knee still recovering we already had a deficit I woke up on Friday morning not able to walk or eat. When your Chief Mechanic even questions that he should have sent you out on the track for the second practice session because he could not even see my eyes in the back of my head that's how bad it really was.
What I've through for the last 11 weeks from sitting on the side of the track in Germany with a shattered knee I can promise a bout of food poisoning was not going to stop me riding regardless of not being able to eat and very little energy. I was here for the team and all those people who'd put so much time, effort and passion to get me back to full fitness.
I wanted to give my team-mate Pol a run for his money in our final race for the team but I didn't quite have the pace or the fitness to do that but he knew I was around especially in the early laps. It was great to be where we should be in the top ten running with the likes of Cal Crutchlow and Pol because we have been the leading Independent Teams riders for the last few years.
It was not quite the fairy tale ending of my six year career with the Tech 3 team dreaming of riding into Parc Ferme with a podium finish but to be ninth back inside the top ten when I still should not be riding was very satisfying and a big thank-you to the team and all those people who'd put so much time, effort and passion to help my get back riding. Really I should still be back at home sitting on the sofa and doing my rehab but that was not the plan and I needed to get back to race in Japan at the start of the three flyaway grands prix.
It's a massive thank-you to my Dad and Dakota Mamola who gave up some much time to travel the World looking after me. It was tough for them to see a son and friend getting on a MotoGP bike knowing just how much pain I was in and the lack of flexibility I had in the knee. That first weekend in Japan was the toughest in terms of physically being able to actually ride the bike. I was scrapping my right leg everywhere and could not get my knee down properly. I gritted my teeth and lapped 11 seconds quicker in the race on Sunday than I did in that first Friday morning practice session. Things got better over the week and I was pleased with that eighth place at the Phillip Island race in Australia when I got over the shock of coming so strong towards the end of the race. The final race of that two week spell came just seven days later in the pouring rain at Sepang in Malaysia which came as a timely reality check of just how tough MotoGP racing is. In Phillip Island I didn't feel great and finished eighth while in Sepang I felt great and finished 14th. It just shows there is no right or wrong way in Motor Cycle racing and is what happens on Sunday that is important.
I so enjoyed being back in the MotoGP paddock and environment especially in Japan and then the good result in Australia. Sepang was great because I'd missed the frustration and just how muck racing can p…….me off. The anger and frustration on nearly being there but not quite making it. It made me realise just how I care.
I really want to go out on a high to thank the Monster Tech 3 Yamaha team for those amazing last four MotoGP years. It's not always been plain sailing. In 2013 and 2104 there were some big doubts if I could make it in MotoGP. Then after such a fantastic year last season I struggled in the early stages of this year and then was side-lined with the knee but I honestly believe we turned it round. We struggled in qualifying around 18th/19th and not getting into Qualifying two but we ended the season much stronger always fighting around that top ten area even with the injury. I've learnt a lot over the last 12 months which stands me in good stead for the adventure that lies ahead with KTM.
Marquez: "Very long day!" Repsol Honda rider begins his title defence in P4 on Day 1 of testing
Marc Marquez (Repsol Honda Team) began his first day of the 2017 season on good form and in good spirits, registering a 1:31.102 as his best lap, completing 53 laps and putting in his fastest time on the 33rd.
Marc Marquez (P4): "It has been a very long test day, because when the bikes are new, it takes a lot of time to make changes and get back out on track. We only did one stint with the bike we used in the Grand Prix, to see what condition the track was in, and then we started to work on the new bike. As a rider, it's a bit boring because I had to wait a long time in the garage because with everything being new the engineers have to adjust a lot of things along the way, but finally we were able to try several solutions. Let's see if tomorrow we can continue improving and make the most of the day."
Lonely at the top: Viñales keeps his throne on day two. Movistar Yamaha MotoGP's new signing takes the top spot on the second and final day of testing in Valencia
Maverick Viñales (Movistar Yamaha MotoGP) is settling into his new home well – fastest on day one at the Valencia test and then repeating the feat on day two for an amazing debut. A 1:29.975 in the afternoon saw the former Moto3™ World Champion take over at the top, after completing 66 laps on his second day at Yamaha. With blue skies once again and good, seasonal temperatures, conditions were nigh on perfect for one of the paddock's key days of the pre-season.
Viñales' teammate Valentino Rossi ended the day a little further down the timesheets in P7, completing a program of 45 laps and suffering no crashes – after losing some track time on day one following a fall on when testing back to back 2016 and 2017 equipment. The 9-time World Champion put in a best of 1:30.709, and next up heads to Malaysia alongside Viñales to test in Sepang – with most on the grid instead heading for Jerez next week.
Repsol Honda Team were testing a multitude of different engine and frame combinations and evolutions from 2016 and 2017, with reigning Champion Marc Marquez suffering a fall between Turns 1 and 2 after running on and then heading into the gravel slowly; just unable to keep the Repsol Honda upright. Marquez did a total of 58 laps with a best of 1:30.171 and went second – doing some longer runs later in the afternoon, and taking advantage of the final minutes of track time for a practice start.
Dani Pedrosa was out the box a little later than his teammate Marquez, as he continues to recover from a broken collarbone – amongst other injuries – sustained at the Twin Ring Motegi, and the 'Baby Samurai' accordingly put in a lesser 38 laps on day two, including a good amount of time on the black liveried 2017 bike. Pedrosa ended the day around half a second off his teammate, in P5 with a 1:30.686.
Jorge Lorenzo was first out once again from his new Ducati Team pit box, eager to get down to work. It was another positive day for the Mallorcan in his new home, eighth fastest and only 0.035 behind former teammate Valentino Rossi on the Movistar Yamaha. The Spaniard's best was a 1:30.744 after riding the 2017 bike for much longer than his first initial run on Tuesday, and Lorenzo ended the day with a practice start; one of the last on track as the sun began to set. A lot of laps and many runs gathering maximum information was vital for the number 99, as he will not be allowed to take part in the Jerez test next week.
Andrea Dovizioso was the fastest of the Ducati Team on track on day two. Putting in 61 laps throughout the hours, the Italian was P3 on the timesheets with a 1:30.443, 0.468 off Viñales' best of the day. The Sepang winner tested both the 2016 and 2017 machines once again on day two, and will also sit out the Jerez test as the Ducati test team take over from him and Lorenzo.
Team Suzuki Ecstar riders Andrea Iannone and Alex Rins had a mixed second day. Both riders suffered crashes at Turn 12; the latter from Iannone, on only his fourth lap, bringing out the red flag to assess the track safety conditions. With extra protection added to the run off area at the corner, action got underway once again with Iannone then improving in the afternoon to go P4, a 1:30.599 after a brave 47 laps and one of the only men getting faster later in the session.
Alex Rins' crash in the morning saw the MotoGP™ rookie fall only a few minutes before his teammate – with severe damage to the bike. Rins was taken to the Medical Center at the track before then going to hospital for further investigation – with initial reports of a compression fracture to vertebrae in his upper back, and at least a month of rest required for the Moto2™ and Moto3™ race winner. The Spaniard will sit out further testing later in November at the Circuito de Jerez.
Cal Crutchlow (LCR Honda) was fastest Independent Team rider, fitting with the title he secured in 2016, and put in a best of 1:30.709. The LCR rider avoided the crash he suffered on day one, getting in a good program of work.
Aprilia Racing Team Gresini rider Aleix Espargaro impressed on his second day out with his new team, taking ninth on the timesheets with a 1:30.885 on his fastest lap. Teammate Sam Lowes sat out day two after a late crash on day one, instead ready to get back on track in Jerez next week.
New Monster Yamaha Tech 3 teammates Jonas Folger and Johann Zarco had an impressive day two. Folger just got the better of his two-time Moto2™ World Champion teammate after dueling it out for supremacy; 0.067 ahead of the Frenchman on the timesheets. The pair put in 62 and 55 laps respectively, and will be joining Movistar Yamaha at Sepang for another test in place of the Jerez choice of many of the other teams in the paddock.
Team Estrella Galicia 0,0 Marc VDS had a chassis update – the one used by race winner Cal Crutchlow (LCR Honda) from Silverstone onwards. Finding improvements, Jack Miller's fastest was a 1:31.069 to put him in P12 on the timesheets despite a crash in the afternoon, with Tito Rabat registering a 1:31.918 in P18.
Alvaro Bautista (Pull&Bear Aspar Team) was P14 on day two with a 1:31.186 over 69 laps – the most of the day - but did suffer a crash earlier in the session. Teammate Karel Abraham, riding the 2015 Ducati after beginning on the 14.2 yesterday, had his day cut short with a major electrical problem that the team were unable to fix on the day – left wanting some more track time on his return from WorldSBK.
Octo Pramac Yakhnich rider Scott Redding put in a best of 1:31.118 to go P13 despite a crash, with temporary teammate Michele Pirro, standing in for Danilo Petrucci, in P16. Avintia Racing's Hector Barbera completed the top fifteen, with a best of 1:31.244 – with teammate Loris Baz doing a best of 1:32.161.
Red Bull KTM Factory racing's Pol Espargaro and Bradley Smith completed another full day as they ventured out on track for the second time with the new project from the Austrian factory. Espargaro put in a fastest of 1:31.833, 1.8s off Viñales, and ended the day in P17 in a good first representative, comparative test for the RC16. Smith suffered a crash later in the day; rider ok, ending the day in P20 as he continues to get back to full strength.
Next, Spain or Sepang await the grid for more testing, before the winter test ban comes into effect. Then, the whole paddock will head for Malaysia for the first test of the new season – beginning on 31st January at Sepang International Circuit.
Save