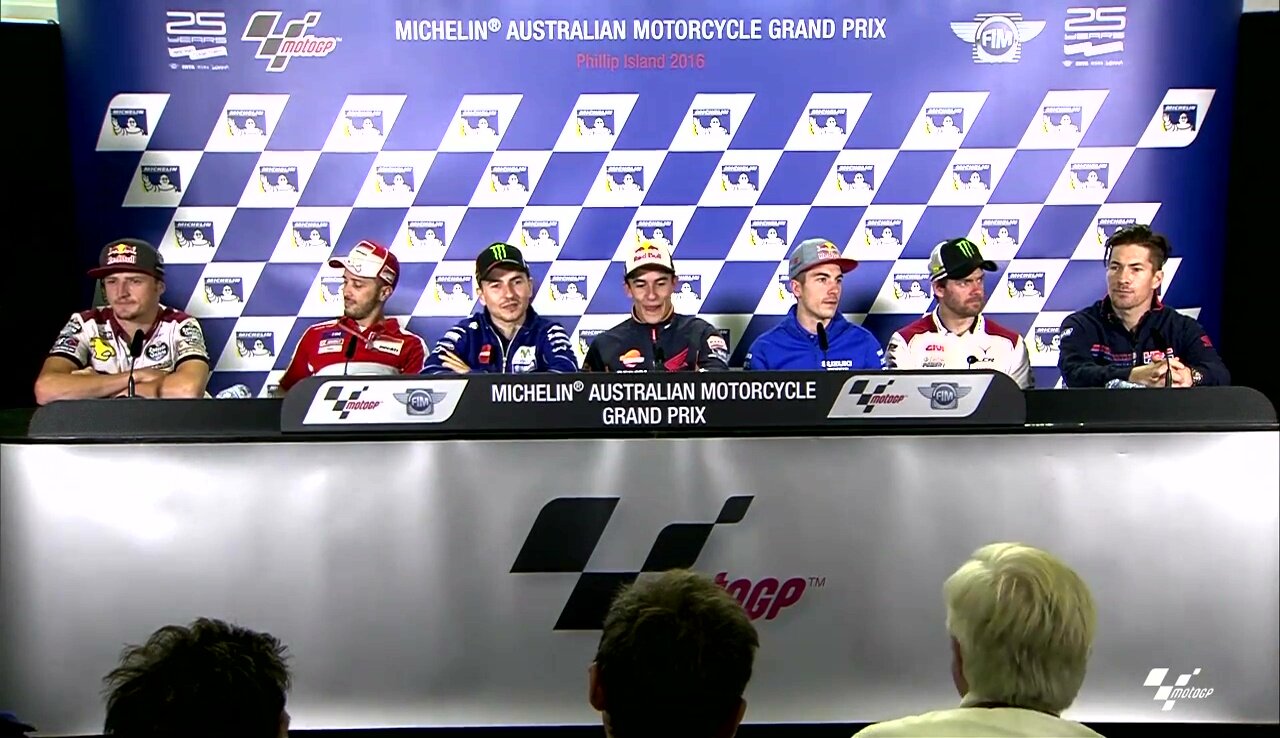 Brilliant absent of the Press Conference in Philip Island, Valentino Rossi...
At the Michelin® Australian Motorcycle Grand Prix, the pre-event press conference kicked off proceedings with a seven rider line-up of freshly crowned World Champion Marc Marquez (Repsol Honda Team), Jorge Lorenzo (Movistar Yamaha MotoGP), Maverick Viñales (Team Suzuki Ecstar), Andrea Dovizioso (Ducati Team), Cal Crutchlow (LCR Honda) and home hero Jack Miller (Estrella Galicia 0,0 Marc VDS) – as well as MotoGP™ Legend Nicky Hayden, who steps in from Honda World Superbike Team to get back into the Repsol Honda colours that saw him take the 2006 MotoGP™ World Championship, as Dani Pedrosa recovers from a broken collarbone.
Talk first centered around Marquez' recent title win, before moving onto the upcoming race around Phillip Island – the stage of the 'race of the century' in 2015 – and the difficult, changeable conditions that can hit the Island.
"Now, I feel much more relaxed," smiled Marquez, when asked about his recent Championship win. "Now we'll enjoy this last part of the championship. This is one of my favorite circuits. Last year on Sunday it was an amazing race, and in the end we won – so we'll try and repeat that kind of race and result. But the forecast looks unstable…"
The 2015 Island Battle saw Marquez, Lorenzo, Valentino Rossi (Movistar Yamaha MotoGP) and Andrea Iannone (Ducati Team) locked in a four-way fight throughout the race, with Marquez eventually taking the honours after a stunning last lap – in the dry and with great conditions.
Jorge Lorenzo first lamented his crash in Motegi and the consequences, but heads into Phillip Island ready to fight for that P2 in the title from teammate Rossi – 14 points down. "In Motegi, I just pushed a bit too much and the front closed – and we lost the chance to take second. Now it's a bit more difficult because there's only three races left, but anything can happen. Phillip Island with perfect conditions is amazing to ride. Wonderful. But, when it's cold or windy or raining it's the opposite – quite tricky."
Ducati Team's Andrea Dovizioso was another who mentioned the weather and the possibility racing in the wet – something that has proven to play in his favour in some races. "Last year I had a really bad race, but this year I'm sure it will be different," began Dovizioso. "The feeling with the bike is very different to last year. Phillip Island is a really special track. And like Jorge mentioned, the wind can be difficult. The wind can make it hard to ride the bike, and tomorrow looks like it could be wet. But we're usually competitive in the wet. So we start confident, and we'll see."
Another of those confident ahead of the weekend was Maverick Viñales, who is also another of those who took a podium in Japan and looking to keep the momentum. "We come here with a lot of expectation because Phillip Island is a track I really like," said Viñales. "I've always been fast here. We're motivated to win here and after Japan, even more. The track suits my riding style, so we'll give 100% and we'll see."
Cal Crutchlow then followed up on the weather question – having taken a victory in Brno in difficult conditions – but maintains he wishes conditions to be good, and no rain for the weekend. "Phillip Island has been a kind circuit to me throughout the years – except 2014!" said Crutchlow, who crashed out on the last lap two years ago. "I don't want it to rain. People just think if you've had a wet win you want it to rain, but I don't…I prefer the dry for sure."
Another winner in tricky conditions in 2016 was Jack Miller (Estrella Galicia 0,0 Marc VDS), who took a stunning victory in Assen – and returns home to race at Phillip Island for the first time since joining the illustrious list of MotoGP™ race winners. Miller agreed with Crutchlow on the conditions, despite being in the same boat as Independent Team riders to have taken race wins in more challenging weather. "The home support has been great this year," said Miller, first responding to his welcome home as he races in Australia. "Maybe a few people are expecting a bit too much! But here, it looks like it's going to be tricky conditions…which actually aren't the best for us. The wet is hard enough, plus the wind and cold…so hopefully the weather gods shine down on us and give us good weather."
The other big item of interest in the Press Conference was the return of Nicky Hayden to the Repsol Honda Team, as he stands in for injured Dani Pedrosa at the squad. Hayden won the 2006 title with the team, and makes another one-off appearance in MotoGP™ at the Island ahead of the season finale of WorldSBK, where he rides with Honda World Superbike Team.
"I like racing motorcycles so when I got the call I said yeah, go for it!" explained Hayden, who also raced for Estrella Galicia 0,0 Marc VDS at the Aragon GP. "We said no more Suzuka, no more GP...but here has always been one of my favourite tracks. I love it and I think everyone does – preferably in the sun. When I went in the box this morning and saw my number on the bike it was almost emotional for me. I'm very proud to have won with the Repsol Honda team. Now, it's all very well to sit on it and take some pictures, now we need to open the throttle…"