Mighty Marc Marquez fended off all challengers to hold onto the top spot of FP2 ahead of Pedrosa and Viñales.
Temperatures soared for MotoGP™ FP2, the track reaching a staggering 53°C with ambient temperatures at 32.2°C the session proved as much of a physical challenge as any session in Sepang.
Most of the Honda and Suzuki riders went out on new tyres while the Movistar Yamaha MotoGP team focused on using older Michelins in the opening stage of the session. Aside from tyre life and performance, weather remains a great unknown in Argentina with heavy rain predicted on Saturday and Sunday. If it were to rain on Saturday during FP3, then the top ten from Friday would be guaranteed to advance directly to Q2.
With 11 and a half minutes to go, riders fitted new tyres and went out with their eyes focused on the top of the timesheets. Fastest of them all was Marc Marquez (Repsol Honda Team) with a 1'41.579, 2.2 seconds faster than in FP1. While Marquez may have had massive problems during testing and for much of the Qatar GP weekend, they seem to have left in Argentina.
It was not just Marquez who proved that the Honda is still a top tier bike, his teammate Dani Pedrosa (Repsol Honda Team) ending only 0.025s behind him. This is just Pedrosa's second time at the track, having missed the 2015 edition due to arm pump surgery. The Repsol Honda pair were the only riders able to set times in the 1'41s.
Completing the top three was Maverick Viñales (Team Suzuki Ecstar), who set a 1'42.047 after going down at Turn 3. Just behind Viñales was his good friend Jack Miller (Estrella Galicia 0,0 Marc VDS), the Australian back to being almost fully fit and looking stronger than ever. It wasn't a flawless session for Miller however, he narrowly avoided contact with Valentino Rossi (Movistar Yamaha MotoGP) mid-session: "He braked late, I thought I was okay but he had more stopping power and we touched. I'm glad I didn't clean him up!" said Miller.
Cal Crutchlow (LCR Honda) improved from 20th in FP1 to end FP2, and the day overall, in fifth. The Brit able to cut close to four seconds off his time and make it four Hondas in the top five, an incredible result after their struggles in Qatar.
Scott Redding (Octo Pramac Yakhnich), Valentino Rossi (Movistar Yamaha MotoGP), Aleix Espargaro (Team Suzuki Ecstar), Bradley Smith (Monster Yamaha Tech 3) and Andrea Dovizioso (Ducati Team) completed the top ten and ensured themselves a spot in Q2 if the rain falls tomorrow.
Meanwhile it was a disastrous session for Jorge Lorenzo (Movistar Yamaha MotoGP), the World Champion down in 14th and 1.240 seconds off the pace. Andrea Iannone (Ducati Team) also struggled and was only able to manage 15th.
Aleix Espargaro suffered an early fall at Turn 9 while pushing for a fast lap. He then fell towards the end of the session at Turn 1. Yonny Hernandez (Aspar Team MotoGP) fell at Turn 13 after carrying far too much speed into the corner. All were unharmed and returned to the track soon after their falls.
Michele Pirro, who will fill in for Danilo Petrucci in the Octo Pramac Yakhnich team while Petrucci recovers from further hand surgery, was not present as he had been assisting Ducati at a WorldSBK test in Valencia. He will join the field for FP3 onwards.
Lorenzo: "We have to understand what we can do"
Disaster strikes for Jorge Lorenzo in Argentina as he struggles with track conditions, ending 14th on Friday.
After dominating the field in Qatar, Jorge Lorenzo came crashing back down to earth with a lack lustre 14th in FP2, his 1'42.819 putting him over a second behind the fastest rider. Track conditions did not suit the Movistar Yamaha MotoGP rider, unable to get comfortable on the bumpy and slippery surface of the Termas de Rio Hondo circuit. His silk smooth style can enable him to sprint away from the rest, but can also present major problems when there's a lack of grip. The hotter conditions of the afternoon session only made it worse for Lorenzo, he and his team working hard to find a solution.
In the closing stages of the session Lorenzo also failed to fit a new rear tyre, a mistake which he himself admitted may be a major one should it rain on Saturday. If he were unable to end FP3 inside the top ten, Lorenzo would be forced to fight through Q1 for the first time in his career. The new technical regulations may not have produced any major surprises in Qatar, but they certainly look set to shake the field up in Argentina.
Jorge Lorenzo: "The track is much worse than last year and I don't know why. There are some more bumps and less grip. It looks like our rivals are a lot better under these conditions. We have to understand what we can do to be fast with our bike. We hope it doesn't rain tomorrow and that the tarmac improves a little bit. Let's see if we can work on the bike to make it a more comfortable to ride."
Marquez: "Today was a bit of a strange day"
Major issues with the track condition produced a strange day for Marc Marquez and the MotoGP™ field, but he ends it on top.
A dirty and bumpy track saw all riders in the MotoGP™ World Championship struggle to find grip on the opening day of the Gran Premio Motul de la República Argentina. This didn't worry Marc Marquez as he went about topping the timesheets ahead of Repsol Honda Team Teammate Dani Pedrosa. Aside from Pedrosa, there was no rider within 0.4s of Marquez as he expertly wrestled his RC213V around the 4.808km of the Termas de Rio Hondo circuit. A time of 1'41.579 was the best of the day, but still over three seconds off his own pole record, proof of the poor conditions.
Weather forecasts are also predicting rain and thunderstorms on both Saturday and Sunday in Argentina. Wet weather could turn the entire grid upside down, the riders yet to race with Michelin wet weather tyres. Rain overnight could also change the track conditions dramatically and Saturday could quite easily see riders start from zero again. Marquez enters the weekend as a more mature rider, no longer risking a crash to grab a risky first place and happier to settle for second.
Marc Marquez: "Today was a bit of a strange day, but the feeling was good in the end and we finished first on the timesheets. I think that the conditions will change a lot during the weekend, even from the first to the second session we saw the surface improve, although not as much as we had expected. So far track conditions are worse than last season so seems that the times will be a long way off those from last year, but it will be the same for everyone and we are trying to manage it in the best way possible and adapt the bike as best we can."
Viñales: "The crash was my fault"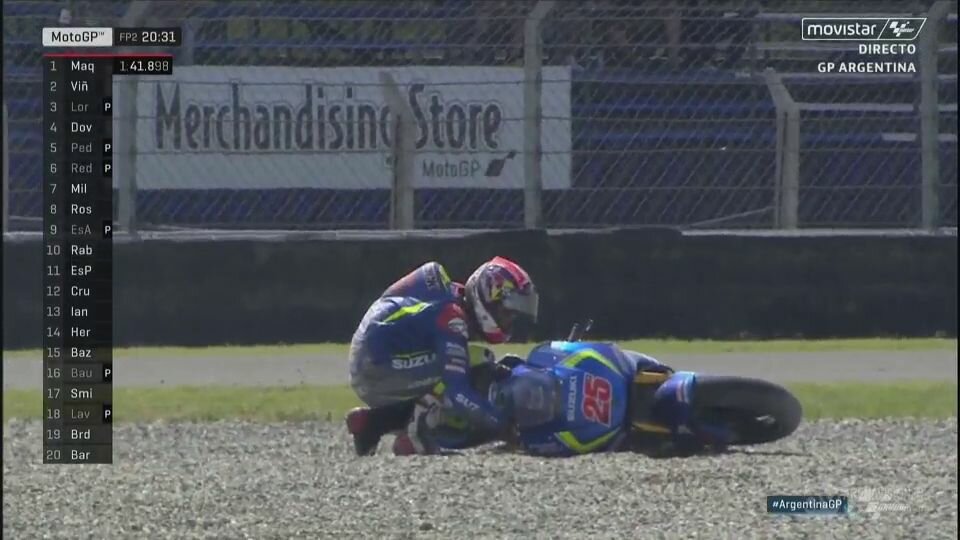 Even a fall couldn't stop Maverick Viñales' charge to third in Free Practice 2 in Argentina.
Another great start to a Grand Prix weekend greeted Maverick Viñales at the Gran Premio Motul de la República Argentina. With the fully seamless gearbox fitted to his Suzuki GSX-RR, he was as deadly as ever as he produced a 1'42.047s to end the opening day in third. Viñales was the only rider other than Dani Pedrosa (Repsol Honda Team) to get within half a second of Marc Marquez (Repsol Honda Team) and the only non-Honda in the top five. The time didn't come easy as Viñales suffered a crash at Turn 3 in the second session, the fall his fault after running wide over a dirty patch. But this result proves that both Viñales and the GSX-RR are competitive at multiple tracks with varying layouts.
Dirt played a major role in opening practice, riders and teams feverishly hunting for grip on the dusty Termas de Rio Hondo circuit. The issues was made more severe as track temperatures reached the high 50s. Knowing he can be amongst the top riders even in tricky conditions will no doubt do Viñales well, the young Spaniard out to return Suzuki to the podium.
Maverick Viñales: "I feel we did a good job today, we did many steps forward and according to the conditions of the track we settled with a good pace. The crash was my fault, I went a little wide in a corner and I found some dirt on the ground; it was a minor crash and with the track in these conditions it was very easy to incur such a mistake. The job we have done today is very important; we settled a good pace and also the fast-lap is not bad. We tried two sets of tyres and I feel confident with the feeling I have both on worn and on new tyres. We still need to work a lot, the track conditions are a little tricky because it's like walking on eggs, therefore all riders may do big steps forward. Also, the weather is uncertain for tomorrow, it's a matter to wait and see if it will rain and if the grip on asphalt will improve. We have to be ready to adapt quickly, but for the moment, the progress we have made makes me feel comfortable."
Crutchlow: "I think everyone is struggling a little"
After leaving Qatar with zero points, Cal Crutchlow was back to his best in Argentina and inside the top five.
While the likes of Yamaha and Ducati struggled on the dirty and dusty Argentinian circuit, Honda riders were able to excel. Four RC213Vs filled the top five spots at the end of the day, Cal Crutchlow ending fifth. A 1'42.451 aboard his LCR Honda machine had the Brit 0.872s back on Marc Marquez (Repsol Honda Team) and 0.076s away from ending as the top Independent Team rider. The result came after he and his team avoided risk in the morning session, instead focusing their attention on Free Practice 2 when conditions had improved, albeit only slightly.
That second session saw the Brit improve his time by over two and a half seconds, despite the strange conditions. Tyres remain a hot topic of discussion, Crutchlow unsure as to which option may work best for the race on Sunday. Rain is forecast for both Saturday and Sunday and could see the sessions run in wet conditions or at least alter the condition of the track if the rain does not stay.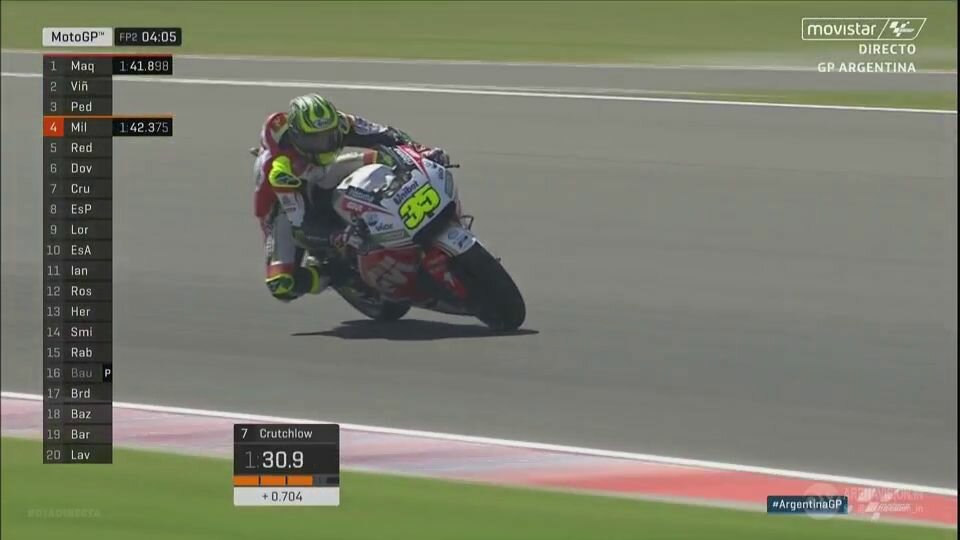 Cal Crutchlow: "Today was a strange day with the track surface being so slippery here. It was really difficult to understand the feeling from the bike, but overall in the end we aren't in a bad situation. All the Hondas seem to be doing very well at this venue and this is pleasing for us and the manufacturer. The team worked really well, but we still need to evaluate a few things overnight and discuss the best option as regards tyres with Michelin, because I think everyone is struggling a little with the front. We will look to them for some improvements too and hopefully we can then have another good day tomorrow."