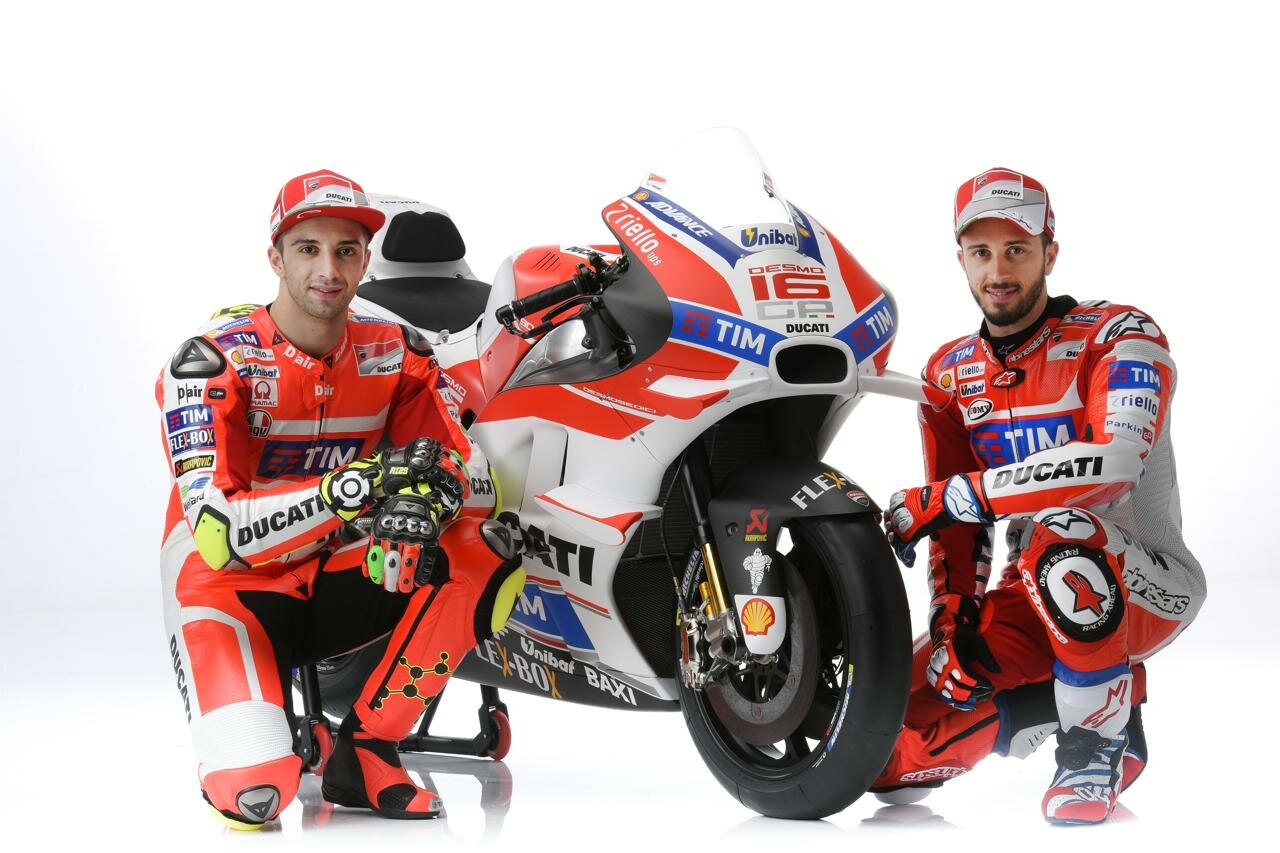 Fresh off testing in Phillip Island the factory Ducati Team unveil their 2016 look and the Desmo16 GP.
Both Andrea Iannone and Andrea Dovizioso remain with Ducati in 2016, the factory team unveiling a revised livery in Bologna. The 2016 Desmosedici GP, or Desmo16 GP, had been running in black testing livery in both Sepang and Phillip Island but debuted its 2016 colours in Bologna.
Iannone feels that the bike is a positive step forwards from the 2015 model, having gotten comfortable with the bike after numerous laps in Australia. While his times were less impressive during testing, Dovizioso continued to put in lap after lap and has high expectations for the Qatar test at the start of March.
Michele Pirro, who will continue as the Ducati test rider, was also present at the launch and will participate in several wildcards in 2016. Casey Stoner, Ducati brand ambassador and test rider, was not present at the launch but is expected to be back on track for a private test in Qatar.
Ducati are hunting their first win since the Australian GP in 2010 when Stoner won his final race for Ducati. Both Iannone and Dovizioso have come close to taking to the top step of the podium, amassing eight podiums between them in 2015.
Andrea Dovizioso: "The new bike is beautiful. In 2015 we started the testing schedule with a completely new bike and we did not know what to expect, it was natural that certain limits came during the season. There have been small changes to the bike this year as it is important to keep evolving; in 2016 it will be critical to work on the basics to stay ahead. We had some problems in the first test in Malaysia but already in Australia we have improved the feeling with the tyres, this was out first objective. Now we have the chance already in Qatar to evolve more and focus on other aspects. I think our opponents have already been working there. We will see at the start of the season how it goes but I expect a lot from this last test. Honestly, we are here to win, it will be hard as our opponents are strong, but we will fight for it."
Andrea Iannone: "Definitely returning to Australia was nice, last year was an incredible race, one of the most beautiful of my life and perhaps the best of 2015. I cannot wait to start. The new bike is good, I expect a lot from 2016, we come from a very successful year and I think we all made a very important step forward, step-by-step we are going in the right direction. 2016 will be difficult because we have to keep improving our results, it is never easy. We are a great team and I hope to come together with the whole team. It's an important season for me, I have worked and it has gotten me here today. I started the adventure with Ducati in MotoGP, in the Pramac Team, for me it is a big family."
Luigi Dall'Igna, Ducati Corse General Manager: "An exciting season has just ended and during the winter we prepared the 2016 bike characterized by the changes in regulations. We showed up prepared with the software after the work done with the satellite team and with the tyres there is still a little to do. Michelin this season have changed compared to the tyres in the final test of 2015, we worked very hard on them in Malaysia and Phillip Island but we will continue in Qatar. The new bike is an evolution of the GP 15. The Desmosedici GP still lacks some refinement that we will need to do in Qatar. Last year we ran a good GP there but we also ran some races where we were too far from the positions that count, this year's goal is to be the protagonists in all the race."
Paolo Ciabatti, Ducati Sporting Director: "Our work is extraordinary and very cooperative from everyone. I want to emphasize the commitment of our test rider Michele Pirro. Casey is also giving us a big hand in the preparation of the season, his is a very important task, he saw and heard the behaviour of the bike and has given essential guidance to our riders."
Davide Tardozzi, Team Manager: "I would say that Casey is thrilled, he's one of the family and it's nice to still have him with us as a test rider. His work, like that of Pirro, is fundamental even though much is behind the scenes. During the early season tests we aimed for race pace as well as exploring the new bike, the lap time will come during the Qatar test."