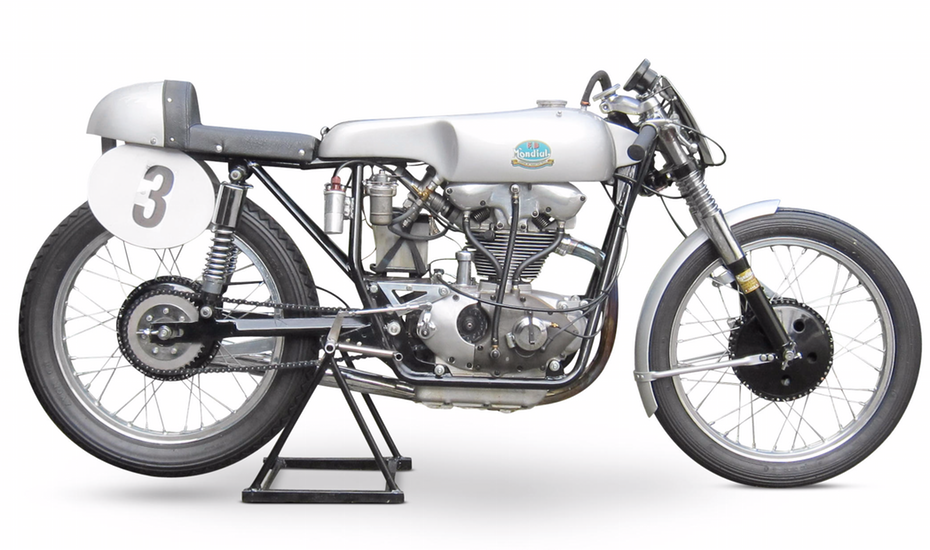 Few marques have achieved so fine a competition record in so short a time as Mondial. Founded in Bologna in 1929 by the Boselli brothers (F.B. = Fratelli Boselli), Mondial concentrated on the manufacture of commercial vehicles at first, only turning to motorcycle making in 1948. Flying in the face of accepted wisdom, engineer Alfonso Drusiani believed that it was possible for a four-stroke to compete against the two-strokes - fielded by MV Agusta and Morini - then dominating the ultra-lightweight class. After a successful debut season in 1948 which saw works rider Nello Pagani win the Italian Grand Prix, the little Mondial was further improved for 1949 and Pagani duly brought Mondial its first World Championship. Mondial's dominance of the 125 class remained just as overwhelming for the next two years, Bruno Ruffo taking the title in 1950 and Carlo Ubbiali in 1951, before Cecil Sandford struck back for MV Agusta in 1952.
The 175cc class was an important one in continental Europe and the 125 was duly bored-out from 53mm to 66mm
to achieve the required extra capacity. Revving to 9,000rpm, it produced 20bhp-plus. Riding one of the new 175cc Mondial singles in 1954, rising star Tarquinio Provini won the arduous eight-day 1,989-mile Giro d'Italia to start his debut season as a works rider in fine style. But even Provini's prodigious talent could not make up for a lack of machine development, and the mid-1950s would prove to be relatively lean years for Mondial.
Then, in 1957, Drusiani drew up an entirely new 246cc bialbero (twin-cam) single and revamped the existing 125. The result was a magnificent return to former glory, Provini ending the season as 125cc World Champion while newly recruited Cecil Sandford took the 250 crown. Sadly, what should have been the dawning of a new golden age for the Bologna marque was not to be: Mondial, along with Moto Guzzi and Gilera, withdrew from Grand Prix racing at the season's end, and although the firm built a number of - mainly two-stroke - racers in the 1960s, it never achieved the same heights.
1957 F.B. Mondial 175cc Bialbero Racing Motorcycle; Engine no. 206.
This 175cc Mondial was purchased from George Beale by the current vendor, a prominent German private collector, around 15 years ago having been restored a few years previously. Presented in generally excellent condition, it has been ridden on several occasions by the vendor, the last time being at Dieburg.