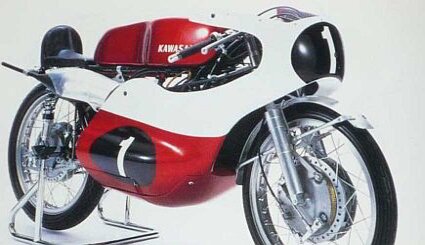 The two-cylinder rotating-disk Kawasaki 125 made its racing debut at the 1965 Japanese Grand Prix. Its performance was disappointing, and as a result the prototype did not appear in Europe during the 1966 season.
When the famed Continental Circus reached Japan late in the season, though, Kawasaki was ready for a second run. This time there was also a four-cylinder model, repeating the scheme that had brought Yamaha success. But Kanaya and Morishita, the Kawasaki racers, preferred the two-cylinder version. They took third and fourth places in the 125 class.
The next year Kawasaki ran remodeled water-cooled two-cylinder 125s at the Japanese Grand Prix. The official riders for Kawasaki were Araoka and Simmonds, who came in seventh and eighth respectively. In 1968 Kawasaki did not go to Europe. !n 1969 Suzuki and Yamaha were out of racing, and Dave Simmonds got a two-cylinder Kawasaki to ride in the world championship.
He raced against the former official Suzukis of Dieter Braun and Van Dongen, which had lost much of their potential at that point, and the Kawasaki was suddenly competitive. The British Simmonds won almost all of the 1969 races and stayed on the crest of the wave with his 125 until the end of the 1972 season.
Motorcycle: Kawasaki 125 Manufacturer: Kawasaki Industries Ltd.,
Tokyo Type: Racing Year: 1968
Engine: Kawasaki two-cylinder, two-stroke, with double rotating-disk distribution. Displacement 125 cc.
Cooling: Water
Transmission: Eight-speed block
Power: About 32 h.p. at 14,000 r.p.m.
Maximum speed: Over 130 m.p.h.
Chassis: Double cradle, continuous, tubular. Front and rear, telescopic suspension
Brakes: Front, central drum, four shoes, four-cam; rear, central drum