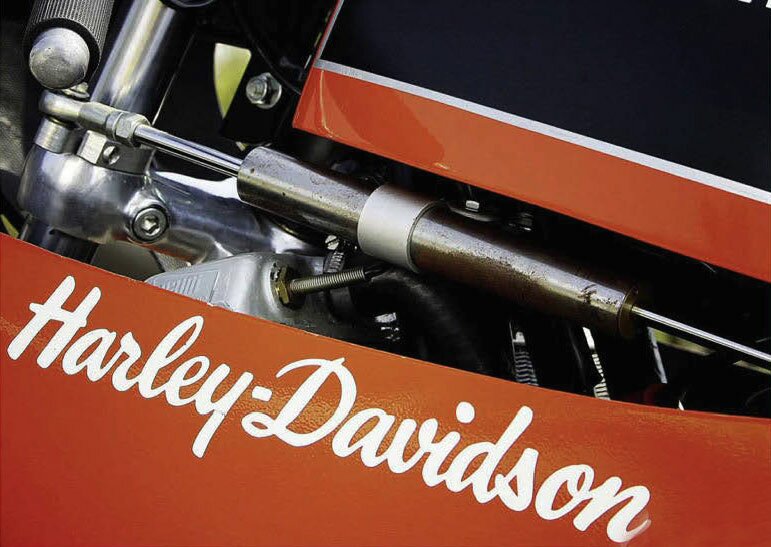 'MICHEL ROUGERIE FINISHED SEVENTH ON ONE IN HIS HOME GP AT PAUL RICARD'  As a pub quiz question, it has few equals. When did Harley-Davidson compete in the 500cc World Championship against Suzuki and Yamaha – with a two-stroke Grand Prix racer? There's more than the whiff of a trick question about it. But the fact is, it really happened – exactly 40 years ago, back in 1975. OK, it wasn't a full season, just a couple of races. Factory rider Gary Scott retired his RR500 from the Austrian GP at the Salzburgring in early May with engine problems. And earlier in the season French ace Michel Rougerie finished seventh in his home GP at Paul Ricard, in a race won by Giacomo Agostini making his two-stroke GP debut on a Yamaha after his shock switch from MV Agusta. Rougerie also scored two non-title international victories in France on the RR500, and his 250/350 GP factory teammate and Harley's reigning 250cc world champion, Walter Villa, had given Phil Read's four-cylinder MV Agusta a serious wake-up call in early Italian championship rounds with the same bike.
Yet that same year the twin-cylinder, fourcarb H-D RR500 project died away almost as mysteriously as it had been born, leaving Harley's Italian factory – where the bike had been created – to focus on retaining its 250cc world crown with Villa that year. And they went on to make it a hat-trick of titles in 1976 as well as doubling up by winning the 350cc crown, too. Those achievements were the work of the close-knit band of four men who comprised the Harley-Davidson road racing team, working out of the lakeside factory at Varese that had formerly manufactured Aer Macchi seaplanes. Albino Fabris was one of the H-D technical staff at the time and recalls: "We'd made a 350cc version of the 250 twin, which was by now water-cooled and we also built a 385cc version." In the final round of the 1973 500cc Italian championship at Misano, Franco Bonera, riding the 385cc twin, gave Phil Read and the four-cylinder MV Agusta a lot of trouble throughout the race, and narrowly finished second to him after setting the fastest lap. "That set us all thinking about what might be possible with a purpose-built full 500," says Fabris. "Walter Villa by then was also riding the 350 and wanted to race a full 500cc bike, so we decided to ask our management to let us build one." The management of Harley's Italian subsidiary responded positively – but with certain conditions.
Though its Italian spin-off was doing OK, the US parent company – then controlled by AMF – was suffering a slide in sales caused by quality issues and increased Japanese competition. It meant the Italian 500 project was given a strictly limited budget to develop the bike, and costs would have to be offset by making a customer version available. They also had to produce a minimum of 25 examples to homologate it for AMA competition. Engine designer Egisto Cataldi – the creator of the 250/350cc parallel-twins that would shortly gather up a total of four world titles – worked after hours at home during spring 1974 to design the RR500 engine from a clean sheet, with only the gearbox casing and minor details carried over from the smaller engines. The newHarley 500 was also a water-cooled parallel-twin with a 180° crank, and its six transfer/twin intake/single exhaust port cylinders, canted forward 15º from vertical, measured 72 x 60mm for a capacity of 488cc. But unlike its piston-port predecessors, the new 'biancone' (as in 'big white', referring to the fact that the factory bike raced in a plain white fairing in its early races) had a reed-valve engine, in an attempt to soften the power delivery and make the bike more tractable on tighter tracks. However, the problemwas that there wasn't yet a reed valve pack big enough for the bike's requirements and nobody made 'THE TOTAL OF 18 RR500 ENGINES BUILT RESULTED IN 16 COMPLETE MOTORCYCLES BEING SOLD' them at all in Italy, so they couldn't even persuade someone local to make them a special design. The only solution was to use a pair of Yamaha reed valves per cylinder from the newly launched four cylinder TZ750, and that meant doubling up on carburettors, too, with two 34mmDell'Ortos mounted to each cylinder, with the reed blocks splayed apart for clearance. These were later replaced on the single factory bike by 34mmMikunis, while the total of 18 RR500 engines built (not 25, whatever they told the AMA!) resulted in 16 complete motorcycles being sold to customers that winter for 3,500,000 lire, all of which retained the Dell'Ortos. A 5% petroil mixture was used, perhaps surprisingly using Shell's outboard engine lubricant. Ignition was provided by a self-generating Dansi CDI, mounted on the left end of the crank with just 21º of advance. With 89bhp delivered to the rear wheel at 10,000rpm and withmaximum torque of 50lb ft at just 6800rpm, it must have felt like a twostroke tractor! That power was transmitted via an extractable cassette-type six-speed gearbox with different standard ratios than the 250/350, matched to a 16-plate Surflex dry clutch positioned on the left behind the generator. 
This muscular-looking motor was mounted in a chrome-moly tubular steel duplex fame very similar to that of the smaller bikes, but subtly reinforced, with a 55mm longer swingarmdelivering a 1410mmwheelbase. The eccentric chain adjuster was contained in the axle mount, as opposed to in the swingarmpivot as on the smaller-engined bikes. The RR500's 35mmCeriani fork was set at a rangy 28º rake with just 85mmof trail, and after starting out with twin Ceriani shocks at the rear, the team soon adopted Girlings. Up front on all the customer bikes, a pair of 280mm Brembo cast-iron ventilated discs was gripped by twin-piston Brembo Serie d'Oro gold calipers, with a 200mm Ceriani single-leading-shoe drumbrake at the rear, and Borrani 18in alloy rims at both ends (WM2 front and WM3 rear).

On the works racer, however, the team initially experimented up front with the unique and much more costly 260mm Campagnolo so-called 'hydro-conical' cast alloy wheel with a hydraulically-operated conical drum brake contained inside the hub and, as Walter Villa was a fan of this (he used it extensively on his 250 world champion bikes), they experimented with it for some time before reverting to more conventional twin discs for 1976 once Villa stopped riding the 500.
However, the rear disc brake set-up on the factory bike was a different matter, and was retained throughout its career, having been invented by the team and patented by Harley. "We wanted to prevent rear-wheel hop under hard braking, which was inevitable with the inertia forces caused by such big cylinders, and gave the chain a hard time," says Fabris. "The rear brake assembly weighed four kilos, so moving it to the centre of the bike and attaching it to the gearbox output shaft not only reduced unsprung weight and thus improved suspension compliance, it also compacted the mass more centrally, and made the bike steer better." The 170mm disc was gripped by a single piston caliper, and was cooled via a duct in the side of the fairing. With this installed, the factory racer tipped the scales at 124kg with oil and water but no fuel, split 53/47 per cent forwards, as against the 130kg weight of the customer bikes, split 51/49. It's surprising Harley didn't make further use of this patent – for example, on the VR1000 Superbike? Or perhaps it forgot it had it..? After developing the RR500 in track testing during the second half of 1974, the model's racing debut came about on March 16, 1975 in two different countries. First, Michel Rougerie took one of the customer bikes to victory first time out in wet conditions on the public-roads Rouen circuit, beating a fleet of TZ750 competitors including Chas Mortimer, Jon Ekerold and Kork Ballington, as well as the TZ350-mounted Patrick Pons. And on the same day in the first round of the Italian 500cc championship at Misano, in which Walter Villa on the new Harley led Phil Read's MVAgusta four for most of the race, until he was forced to retire when it got stuck in gear due to a broken selector spring.

Three days later he finished third behind the victorious Read in the second round of the series at Modena, and four days after that Rougerie won again on his customer RR500, this time in the dry at Magny-Cours where he won one leg of the Trophée des Millions open class international, winding up second overall behind Christian Leon's 680cc König. A weekend later, the Harley RR500 made its (and the American brand's) 500cc Grand Prix debut at Paul Ricard, with Rougerie finishing seventh. In April, Villa managed fourth on the works bike in the third round of the Italian 500 series, again at Misano, but retired from the race at Imola two weeks later with a seized engine. When Grand Prix duties intervened, Villa focused successfully on retaining his 250GP world title, and the baton was passed to Harley's American factory rider Gary Scott, who, after testing the bike earlier in the year at Monza and coming away satisfied with it, made his Grand Prix debut on the RR500 in May's Austrian GP at the Salzburgring, retiring with unspecified engine problems. Any plans Scott might have had to race the bike further in 500GP events were aborted when he found himself in a tight battle for the AMA championship with his Yamaha-mounted arch-rival Kenny Roberts, and a new rookie sensation named Jay Springsteen – but he did ride it one more time at Laguna Seca in July, in an effort to prevent Roberts gaining any more points on him.
Sadly, though, problems with the RR500's gearbox meant that Scott suffered a DNF. After that Harley-Davidson focused on Scott beating Roberts to the AMA title. And he succeeded The factory RR500 was only to race once more, when guest rider Mimmo Cazzaniga finished a lowly ninth on it in the Pesaro public roads race in August. Harley shipped the RR500 Down Under for Franco Bonera to race it in the 500cc Australian TT race at the bumpy Laverton airfield circuit outside Melbourne where he finished fifth. 
But the writing was already on the wall. By introducing a close replica of Barry Sheene's GP-winning factory square-four to sell to privateers, Suzuki had effectively cut the ground away from any possible market for the Harley twin. Bonera concentrated on racing the 250/350 Harleys as back-up to Walter Villa in Grand Prix racing, finishing third in the 250cc World Championship points table at the end of the season, and the works RR500 was never used again. When Fabris retired from the factory's Cagiva 500GP team at the end of the 1995 season, he acquired the RR500 together with a still-unsold customer bike, and nowadays prepares them for his son Giorgio to ride in Italian historic events. In June 1975 a spare RR500 engine was acquired by chassis specialists Bimota, which had only been formed in 1973. Until then, the only Grand Prix road racer to carry the Bimota name had been a four-stroke Paton twin, although Walter Villa was about to retain his 250 world title on a chassis designed by Massimo Tamburini for the Varese-based team.
The RR500 motor provided them with the chance to step up from the now-outmoded Paton. The result was a much lower, lighter and more purposeful looking two-stroke twin than the rather plump-looking factory Harley racer. The Bimota HDB1, with monoshock rear suspension, was raced with some success by Vanes Francini, including a rostrum finish in the 1976 Italian 500 championship round at Mugello. But it was destined to be literally a unique machine – only a single such bike was ever built. But there's an interesting footnote to the RR500 story – because it was always intended that there should be a road version! Look closely at the right-side engine cover, and you'll see a boss behind the clutch for the kickstarter that it was planned to incorporate in such a motorcycle. Unfortunately, any such plans were killed off by the advent in the USA of the first generation of anti-pollution environmental regulations. Just think – we could have had something like the Aprilia RS250 twenty years earlier, with twice as much power for not a huge amount more weight. Imagine what that might have been. A two-stroke 500GP race rep with lights – and Harley-Davidson on the tank. If only...
HARLEY-DAVIDSON RR500 
ENGINE/TRANSMISSION
Type Water-cooled reed-valve parallel-twin two-stroke, 180° crankshaft Capacity 488cc Bore and stroke 72 x 60mm Compression ratio 12:1 Carburation 4 x 34mm Mikuni (or Dell'Orto PHB34BD) Igniton Dansi CDI Clutch Surflex 16-plate dry, bronze plates Gearbox Six-speed extractable
CHASSIS
Frame Chrome-moly tubular steel duplex cradle Front suspension 35mm Ceriani telescopic forks Rear suspension Tubular steel swingarm, 2 x Girling shocks Brakes (front) 2 x 280mm Brembo cast iron discs, twin-piston caliper Brakes (rear) 1 x 170mm Brembo cast iron disc, mounted on gearbox output shaft, with singlepiston caliper Front wheel/tyre 1.85in Borrani/3.50-18 Rear wheel/tyre 2.15in Borrani/3.75-18
DIMENSIONS
Weight 124kg with oil/water, no fuel (130kg customer bike) Wheelbase 1410mm
PERFORMANCE
Output 89bhp at 10,000 rpm Maximum torque 50lb ft at 6800rpm Top speed 170mph