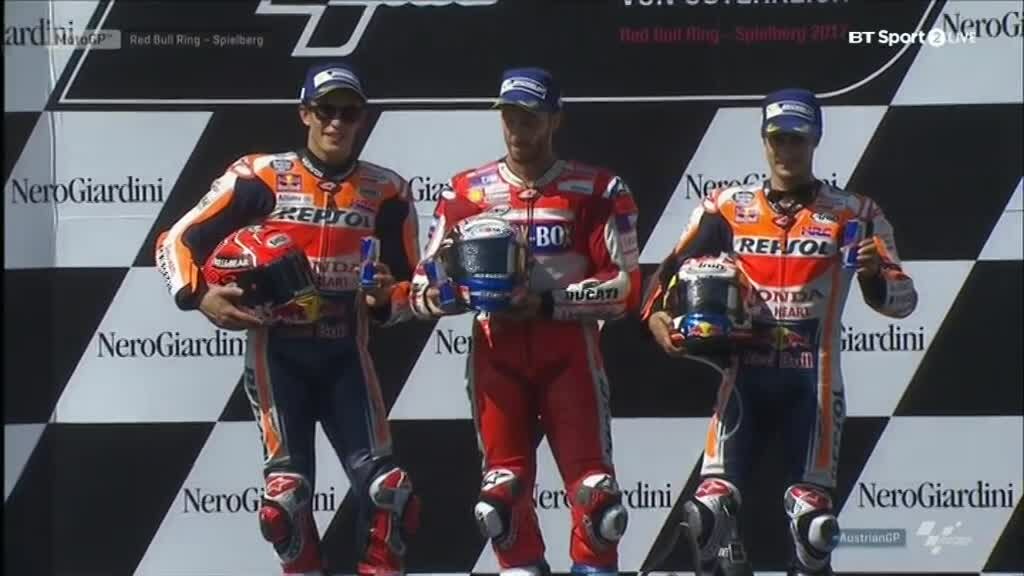 Unfinished business: Dovizioso vs Marquez to reign the Ring
Spielberg hosts an all-time classic as it's a Ducati vs Honda head-to-head to the line
Some races immediately enter the history books as the flag falls. The 2017 Austrian GP proves one such example, as Andrea Dovizioso (Ducati Team) and Marc Marquez (Repsol Honda Team) staged a showcase of the best of the sport, right down to the wire. Almost side-by-side over the line, it was 'DesmoDovi' who took his third win of the year – with Marquez just keeping it on track for second in signature style. Dani Pedrosa (Repsol Honda Team) completed the podium, coming back from a Q1 hurdle on Saturday to make big points gains in the standings.
Polesitter Marquez took the holeshot, before a stunning move from Jorge Lorenzo (Ducati Team) saw him cut inside second-placed Dovizioso and then take Marquez on the exit – an incredible second ahead over the line at the end of Lap 1. Marquez slotted into second as Dovizioso threatened, with Valentino Rossi (Movistar Yamaha MotoGP) a big mover – into fourth past teammate Maverick Viñales (Movistar Yamaha MotoGP).
There was early heartbreak for Pol Espargaro (Red Bull KTM Factory Racing), who was forced to retire as his rear brake was damaged in an early incident – before Jonas Folger (Monster Yamaha Tech 3) was then also forced in. Danilo Petrucci (Octo Pramac Racing), who suffered a big wheelie off the line, was next to enter pitlane after a warning light on the dash.
Back in the battle, Viñales had run wide into Turn 1 to lose some ground and come back on track from the run off, with Lorenzo at the head of the race then being reeled in by Marquez. Soon, Marquez was the man to misjudge an apex – Turn 3 – with Dovizioso quickly pouncing to take over in second.
Meanwhile, Johann Zarco (Monster Yamaha Tech 3) had moved up to tag onto the front four, with Pedrosa the next man to join the party – making a train of five behind Lorenzo in the lead. Marquez then struck back against Dovizioso, with 18 laps to go and everything still in the air.
Some stunning action then shook up the lead as Lorenzo headed deep, Marquez cut inside – and Dovizioso then blasted past both as the three machines were almost neck-and-neck. But Marquez struck back, before an almost replica replay of the earlier trio saw Zarco run deep, Rossi pounce – and Pedrosa take both. Then it was Rossi's time to run wide – off at Turn 1 and dropping back into seventh as he made his way back on track.
At the front, Marquez and Dovizioso had begun to pull away, and everything settled into what felt increasingly like the calm before the storm – and was proved exactly that.
Swapping places whilst keeping the pace searing, the two men fought it out until the end. Dovizioso, ahead as they crossed the line for the final lap, kept everything inch perfect as he waited for the move he knew would come. Marquez, for his part, couldn't make a much-used Turn 7 move this time around, and the corners were counting down.
Almost a flash of unified colour around the penultimate corner, breath was held as the moment arrived – and so did Marquez. Lunging for the inside on the final corner and then sliding out just wide, the reigning Champion was spectacular – but it wasn't quite enough, with his Italian rival cutting back inside to cross the line for his third win of the year.
Pedrosa completed the podium after some solid pace, taking Lorenzo and at one point in striking distance of the lead. The number 26 also moved to within only two points of Rossi in the standings. Zarco took fifth after holding off Viñales and coming home top Yamaha, with Rossi crossing the line in P7.
Alvaro Bautista (Pull&Bear Aspar Team) had a stunning Sunday comeback to take eighth, able to pull clear of another impressive performance from Loris Baz (Reale Avintia Racing) in ninth after the Frenchman also made it through directly into Q2.
Despite early heartbreak for Pol Espargaro, there remained something impressive to cheer for Red Bull KTM Factory Racing at their first home GP – with wildcard test rider Mika Kallio riding a superb race into tenth. The second consecutive top ten finish for the Austrian marque, the Finn was also only a tenth off Baz in ninth.
Andrea Iannone (Team Suzuki Ecstar) was P11, ahead of Scott Redding (Octo Pramac Racing), Aleix Espargaro (Aprilia Racing Team Gresini) and Karel Abraham (Pull&Bear Aspar Team) in P14. Cal Crutchlow (LCR Honda) completed the points scorers after a tough race.
After the NeroGiardini Motorrad Grand Prix von Österreich, Marquez remains ahead on the road to Silverstone, but it's now Dovizioso hot on his tail – 16 points adrift. Viñales, after Austria, moves out the top two in the Championship for the first time this season – and Pedrosa is now within two points of Rossi.
Dovizioso: "Marc always tries on the last lap!"
And try he did! But it wasn't quite enough to overhaul a stunning win for Dovizioso and Ducati
One of the duels of the century was a first time affair: Andrea Dovizioso (Ducati Team) vs Marc Marquez (Repsol Honda Team) at the Red Bull Ring, with the duo fighting it out over the last lap. Going down to the final corner and a classic last lap lunge, the Italian emerged ahead over the line and in doing so took his third win of the year. He also moved back up in the standings to second – behind only Marquez.
Knowing the move was coming made for a stressful last lap, but the Borgo Panigale factory rider knew it would be far from easy – and knew both he and Ducati had set him up well for the battle:
Andrea Dovizioso, P1: "Marc always tries to do something on the last lap! It was difficult for me because I lost a lot in the two left corners, and it was easy for him to overtake me – I didn't know he wasn't close and I closed the door, so he had chance to catch me again. He had a chance in the last two corners, but the penultimate corner I braked very, very late and it was difficult for him. I didn't expect him in the final corner, because there is no space, it's not a braking zone. But I heard his engine the corner before the last, he opened the gas before me, and I knew he wanted to try. So I left the door open because if I didn't he would have hit me and could have won. He was good stopping the bike and trying to exit, but I was faster.
"Every weekend you have the chance to change everything, or lose a lot."
"It was a stressful last lap but I'm happy with how we've worked throughout the weekend. Every day was different temperature and the tyres worked in a different way – but we understood the medium was good in qualifying and the soft in the race. This weekend we worked really well. I had to manage the tyre and I couldn't push, and I saved the tyre at the beginning. If we hadn't, we couldn't have done those laptimes later in the race. A lot of people expected us to win easily here, but the rules have changed. Winglets were much better on this track last year. We knew that and we worked very well – the situation was very different this year. Everything changing is this year's Championship. Every weekend you have the chance to change everything, or lose a lot. There are five riders fighting for it."
When asked about his form in 2017, the rider from Forli said the answer is simple: small improvements contributing to a big difference.
AD04: "It's not about taking more risk, it's about managing all situations in a better way. When you're already fast or you've already had a good result, a small change can make a big difference – training, mentality, these tiny things can make a big difference. In this world, in this sport, you have to try always to improve in every area. We still need to improve some things on the bike if we really want to fight. But that's the reason why, at 31 years old, I'm here to fight for the Championship now – and wasn't in the past."
Marquez: "If I hadn't tried it, I wouldn't sleep well!"
He arrived, he tried, he didn't quite conquer – but Marquez took some risks at the Red Bull Ring
Last corner lunges often did run awry, but this one worked perfectly – except for the Ducati that swept back up the inside to beat him to the line. But Marc Marquez (Repsol Honda Team) made a big step forward from last year and threw everything at the Austrian GP – giving us a true modern classic. Locked in a high-speed game of chess turned duel turned incredible final corner, the rider from Cervera was always going to try it. In fact, he says if he hadn't, he wouldn't have been able to sleep very well on Sunday night:
Marc Marquez, P2: "Today on the last lap I was thinking about everything except the Championship. I pushed 100% and I decided to go all-in – the Championship is important but even second place is. This year we were much closer but today Dovi, especially on the last laps, had a little bit more. A little bit everywhere except two left corners. I was losing everywhere but much faster there, maybe because he was on softer tyres. But I got to the limit and I tried in the last corner because if not, I wouldn't have been able to sleep well tonight!"
This time, the risk neither paid off nor backfired, leaving Marquez with another trophy and a nice round 20 points to put in the bank – with two key title rivals off the podium, too. His lead is now 16 points.
We were three hundredths apart; the adrenaline, I touched his rear at Turn 2, it was on the limit…
MM93: "It was risky but I'm happy in the end because the 20 points are important. I was thinking about overtaking him in the penultimate corner but he closed the door and I'd had a few warnings there. Today track temperature was warmer and I was struggling with the front, he closed the door perfectly so I tried the last corner but he understood perfectly what was going to happen – and he got the undercut. It was a really exciting race, when we were three hundredths apart, the adrenaline, I touched his rear at Turn 2, it was on the limit – but we survived the race, we're second, and if you said to me on Thursday I'd be second, I would say it's a great result. Dovi deserves it because when he was behind me he was comfortable, and when I was behind him I was on the limit. So I'm happy to increase the Championship points and because we got the target – to be on the podium in every race and consistent in all conditions."
The reigning Champion also had some ominous words following the showdown, with one thing proving even more worthy of mention than the points:
MM93: "What I tried today in the last corner is because I've started to feel the limit of the bike again. This sweet feeling with the bike – and that's the most important for me."