Dani Pedrosa (Repsol Honda Team) took a stunning victory at Misano World Circuit Marco Simoncelli, leaving rivals Valentino Rossi and Jorge Lorenzo in the dust to complete the podium (Movistar Yamaha MotoGP). Pedrosa's victory marks the eighth different winner in 2016 – an all-time first since the championship began in 1949. And he did it from eighth on the grid.
Lorenzo got the jump from pole, leading the field into Turn 1 as the Mallorcan so often does, with front row starter Rossi and Maverick Viñales (Team Suzuki Ecstar) going head-to-head for P2 and the Italian coming out on top. Pedrosa got an incredible start from P8 to move him up into the front group, joining Viñales, Dovizioso and Marc Marquez (Repsol Honda Team) in the squabble for P3.
Rossi soon struck at the front, sitting up teammate Lorenzo at the final corner and pushing the reigning champion wide, taking the lead and leaving Lorenzo and Marquez to chase him down – with Pedrosa the fastest man on track and setting a new lap record. Making a move against his teammate look easy and getting down into the 1:32s, Pedrosa was on the charge.
Setting his sights on Lorenzo and slicing through, the number 26 fixed his crosshairs on the race leader in Rossi's backyard – then passing the Italian with an aggressive move to sit him him, and concentrating on making a gap at the front.
Untouchable and back with a bang, the incredible ride through from P8 was completed as the 'Baby Samurai' shook off a helpless Rossi to cross the line with a healthy margin – as history continues to be made with the eighth different winner in 2016.
Marquez suffered a tough race to head over the line in P4, but retains a healthy lead in the title as the paddock head back to Spanish soil. Viñales completed the top five, beating home rider Andrea Dovizioso and temporary teammate Michele Pirro (Ducati Team) to the honor. Cal Crutchlow (LCR Honda) had a solid ride to P8, with Pol Espargaro (Monster Yamaha Tech 3) in P9 and an fantastic ride from Alvaro Bautista to get in the top ten in Aprilia Racing Team Gresini's home race.
MotorLand Aragon now awaits: no longer enemy territory Pedrosa, Marquez or Lorenzo as the flyways approach.

Lorenzo: "Pedrosa deserved this"
Reigning champion finishes P3 with a tip of the hat to his old sparring partner
Times can change and that's certainly the case between Jorge Lorenzo (Movistar Yamaha MotoGP) and Dani Pedrosa (Repsol Honda), as the Mallorcan clapped his compatriot on the back for his stunning win on the Riviera di Rimini. The rivalry that characterized their relationship in the 250 world championship and during their first years sharing the MotoGP™ grid has changed a lot since the two then went on to lead Spain's charge into the MotoGP™ history books, and the Mallorcan had only a tip of the hat for Pedrosa after his stunning charge from P8. Starting from a record-breaking pole, Lorenzo led the early laps before then completing the podium in P3.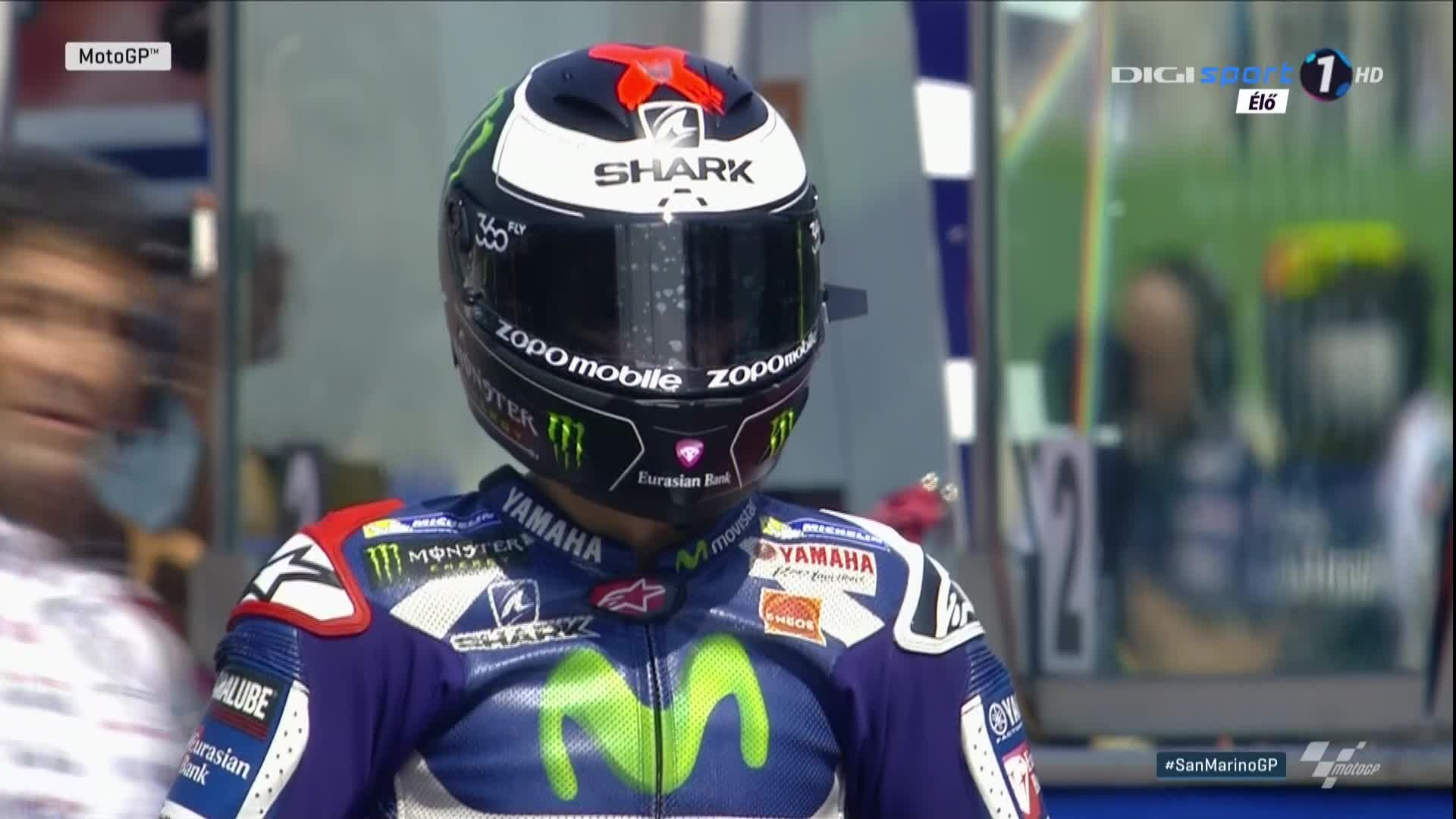 Jorge Lorenzo (P3): "Today was Dani's day and he had everything perfect. He rode unbelievably. He really deserved this victory because he's fought a lot during this period and it's been a tough time. I tried all race to close the gap but today wasn't my day. They were faster and I just have to accept it. In some corners I had some trouble but by the end the bike was working quite well. The hard tyre wasn't for us, the medium was good but the soft we don't know because we didn't try it. Maybe we could have done in Warm Up. Valentino was so consistent and I just needed one or two tenths more – so I can't be very happy but I can't be really disappointed because I'm on the podium and I did my best today."
Rossi: "I tried to resist but he was too fast!"
Another podium, some more points in the title fight – and a rapturous reception on the Riviera di Rimini
It was a good but not great weekend at the San Marino GP in Movistar Yamaha MotoGP rider Valentino Rossi's backyard, as the 'Doctor' led for much of the first half of the race before falling victim to the incredible pace of chasing Dani Pedrosa (Repsol Honda Team.) Rossi, who got a good start from P2 and soon overcame teammate Jorge Lorenzo in signature aggressive style, kept a one second gap at the head of the field until Pedrosa caught him, passed him and gapped him to take the flag. After having a more difficult Friday however, Rossi was happy with improvements made and although he missed the victory, the 9-time world champion did finish ahead of Pedrosa's teammate Marc Marquez and cut the gap at the top of the championship to 43 points. The Italian legend was more satisfied in having beaten the number 93 on the day however, knowing what that meant about his race at Misano World Circuit Marco Simoncelli.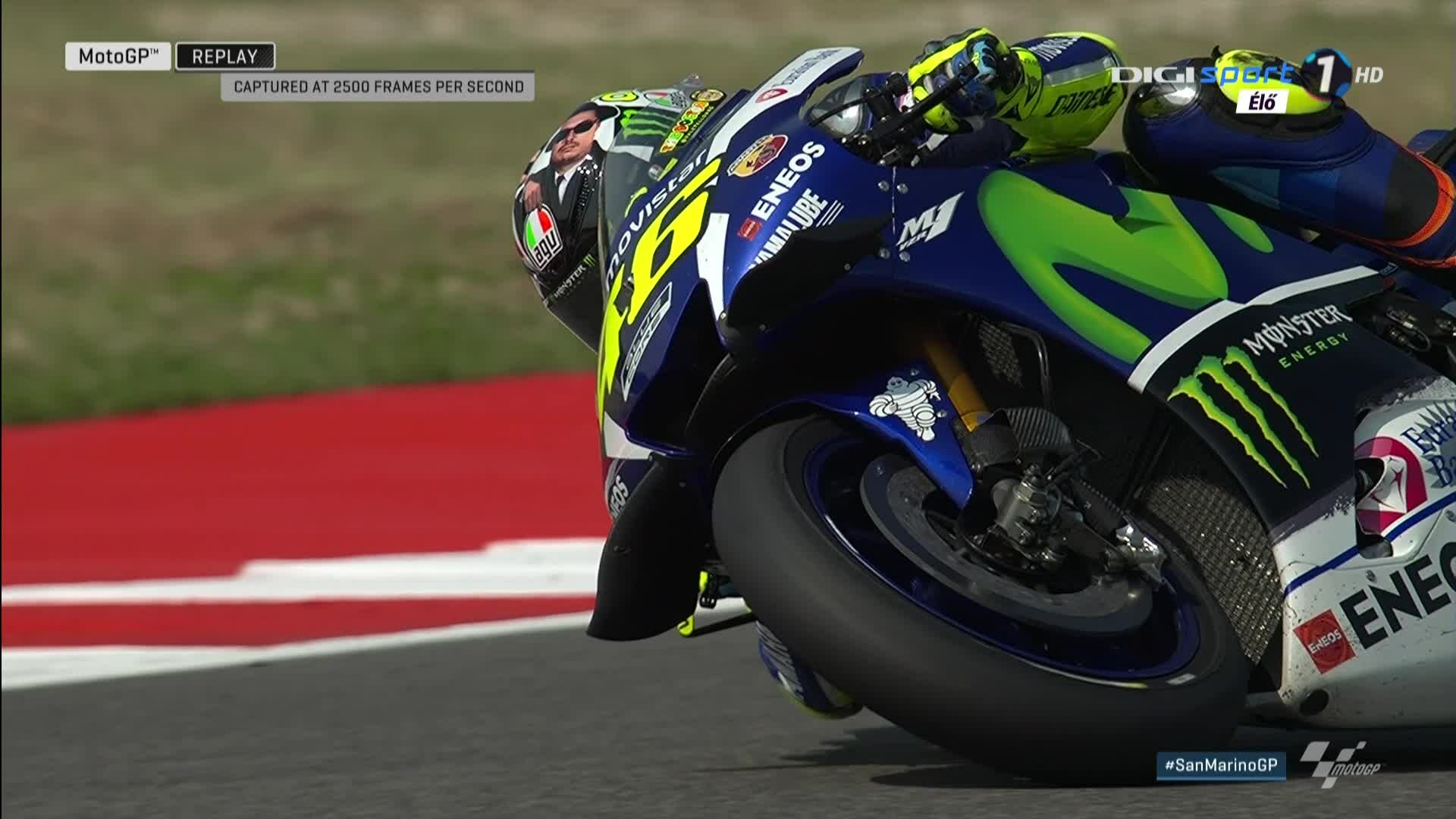 Valentino Rossi (P2): "I think it was a good weekend and we worked well on the bike. We were able to improve and we made the right tyre choice for the race. It was a good start and I got in front and pushed at the maximum – it wasn't easy. I had the pace to stay there but not to escape. It was difficult and demanding physically. I could do great pace and stay around one second ahead and control that pace, and lap by lap I was more and more positive about the end, but after Pedrosa arrived…he was just faster. I tried to resist but he arrived with seven laps to go. I tried to make a lap behind him at the maximum but it wasn't my pace; he was too strong. But it was a great race and a very good weekend. Other than just the championship, it's always great to beat Marc – because you know if you have, you've done a very good job."
Dani Pedrosa (P1) – Repsol Honda rider becomes eighth different winner in 2016 after an unbelievable charge through the field
History can be an easy thing to remake when the cards fall right. 2016 in MotoGP™ has now rewritten it, but it's been anything but easy for those who have written their own chapters in the season that has now seen the most different winners in a single year since the dawn of the world championship in 1949. Chapter 8 was written at Misano World Circuit Marco Simoncelli and it was Repsol Honda rider Dani Pedrosa holding the pen.
Pedrosa took his 29th premier class win and 103rd podium at the Italian track as he fought back up from a tough qualifying position on the third row, and in doing so kept his fantastic record of a race win in every year of his MotoGP™ career in tact. After a tough season and then a corner turned at the post-race test in Brno, the 'Baby Samurai' returned to the top step in spectacular style, taking first teammate Marquez, then the Movistar Yamahas of Jorge Lorenzo and Valentino Rossi as he charged for the flag and crossed the line with a healthy margin – aggressive, unstoppable and uncatchable in his race rhythm. And then there were eight.
Dani Pedrosa (P1): "I just tried to focus on my rhythm. I didn't have many options in the beginning, but once i was fourth I was on my own and i wasn't really losing or recovering. I new I could do a good race but little by little I could see I could start to catch. I didn't think about the victory until 10 laps to go…I wasn't thinking about the win, but then I realized I could catch Valentino. Once I got my rhythm with Marc and Jorge I knew that if I wanted to go with Valentino, I had to pass. I was worried at the start of the race because I'd never used this tyre in the hot conditions – only in the morning. But my feeling was good. On the start grid I was a bit nervous knowing I was the only one of us with that tyre choice but once I started I knew it was better for me.
"It's been hard and it's super to give my fans, team and family and friends something back for their support. I didn't enjoy some races recently, but this one I really did. We need to keep focused for the next race – we've seen that every one can be different. We need to keep our feet on the ground!"
Marquez: "It wasn't the best Sunday"
Championship leader off the podium behind enemy lines in Misano
Marc Marquez (Repsol Honda Team) wasn't able to get back on the podium at Misano World Circuit Marco Simoncelli after a P4 finish in the #BritishGP at Silverstone, crossing the line behind rival Jorge Lorenzo (Movistar Yamaha MotoGP) in another P4 after a tough Sunday. Marquez, who started from the same position on the grid, was unable to keep the pace of those ahead on track and  was one of the few to have opted for the harder option front tyre – along with both Team Suzuki Ecstar riders of Maverick Viñales and Aleix Espargaro. However, the 2013 and 2014 MotoGP™ takes a valuable 13 points back home to MotorLand Aragon – still 43 clear at the top with the calendar counting down.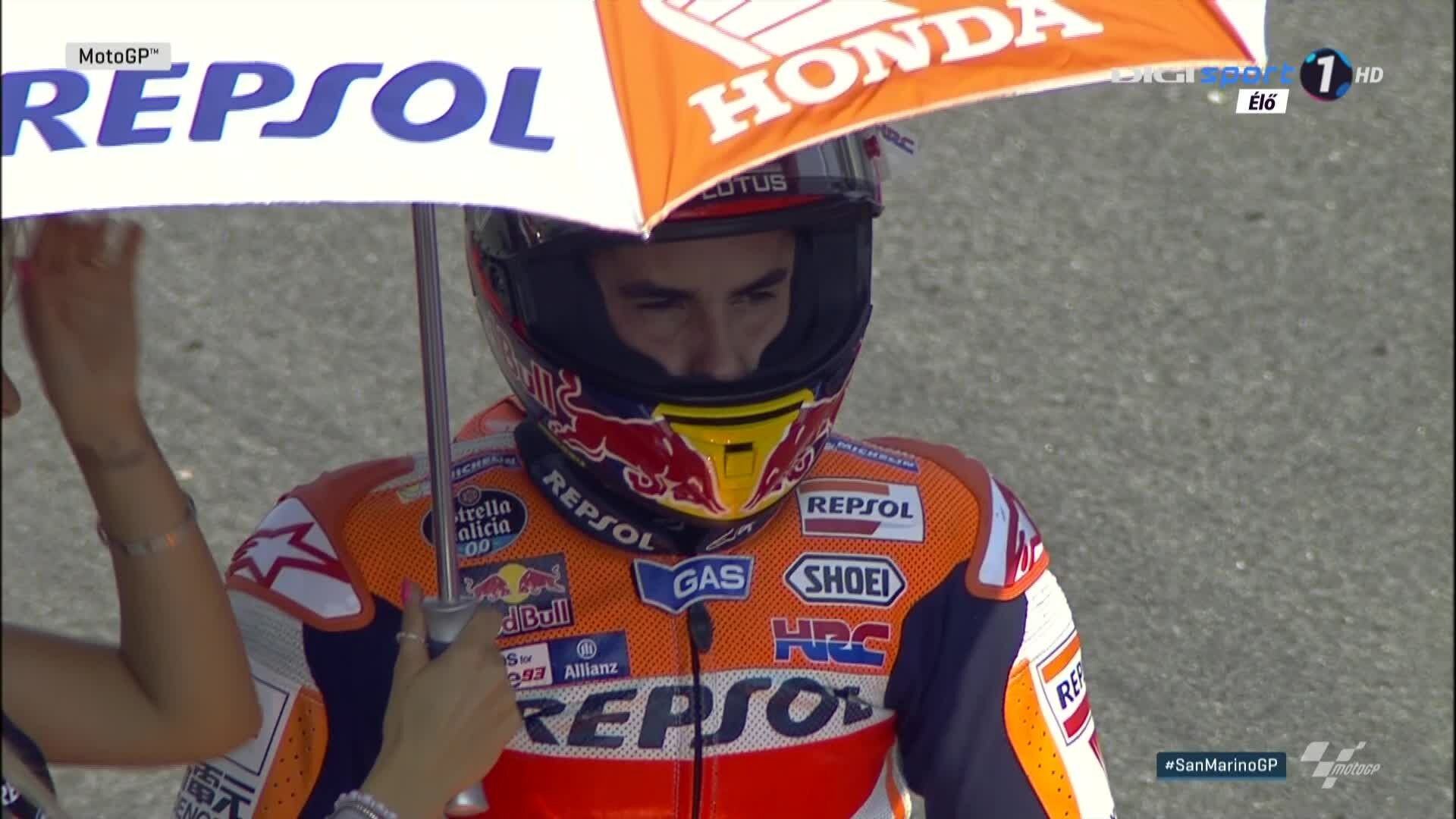 Marc Marquez (P4): "Today wasn't one of my best Sundays. I didn't really feel good at any point, but this time we did make the right choice with the tires, given my riding style. At the start of the race I felt strong but I started having problems with the front end and I realized there was more chance of falling off than getting on the podium. So I decided to settle for fourth, and luckily Dani won and we didn't lose too many points."